Welcome readers! Please subscribe through the button on the right.
(Read this series from the beginning at Part 1 and Part 2.)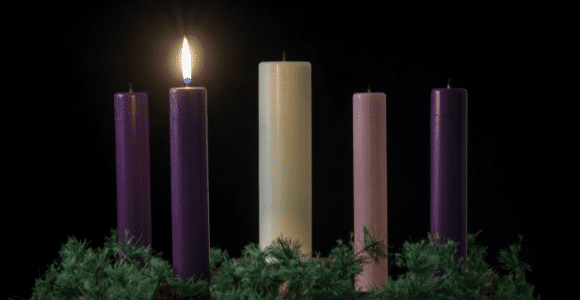 The son of man is not the only image borrowed from the Hebrew scriptures in this week's reading: it also includes the fig tree. This reference also hints to its hearers that we may look through the chaos to the hope of God's just future.
"All the stars in the sky will be dissolved
and the heavens rolled up like a scroll;
all the starry host will fall
like withered leaves from the vine,
like shriveled figs from the fig tree." (Isaiah 34:4)
For the scriptures' first audiences, a leafy fig tree meant that summer and the time of harvest was near. For both Isaiah and the gospel writers, "the time of harvest" was the time when societies would finally reap what the powerful had sown.
Mark and Luke also both use the phrase "being on guard," but they use it differently.
In Mark, being on guard means being wary of false messiahs and being handed over to local councils. It is connected to the watchfulness Jesus implored his closest disciples to join him in in the garden of Gethsemane as he was about to face state execution for standing up in the Temple courtyard to an unjust status quo.
By the time of Luke's writing, though, being on guard has expanded to include carousing, and this shift may reflect struggles within the Jesus community at the time Luke was written.
Luke's gospel also shifts our vision of God's just future as a time of reversal that "traps" some kinds of people. Mark used this idea of entrapment to refer to those who were powerful and using their power in unjust ways, but in Luke the trap captures those who are distracted:
"Be careful, or your hearts will be weighed down with carousing, drunkenness and the anxieties of life, and that day will close on you suddenly like a trap." (Luke 21:34)
Lastly, where Mark's gospel focuses on the Jewish community, Luke's gospel expands the focus to the entire world: "For it will come on all those who live on the face of the whole earth."
How can we as Jesus followers read the above passage in Luke today?
Today I think of the beast of Daniel 7 when I think of our era. We are living in what some observers see as the final stages of predatory capitalism, and we are also transitioning to a post-pandemic world too. In the U.S.'s consumerist culture, we are experiencing rising prices in the cost of living, supply chain breakdowns, increased demand for services and goods, labor shortages, and people who still can't return to their workplace and/or are feeling strained by working 40 hours weekly for pay they can't survive on. Over the last two years, many of us have experience personal losses while witnessing others' gains, especially the wealthy whose net worth increased exponentially during the pandemic. This week we once again see our legal system's disparities on display via the Rittenhouse trial, the trial of those who killed Ahmaud Arbery, and the trial of those who orchestrated the racist violence in Charlottesvile.
Dare we see in these moments an opportunity to build a better world? If we can, it would be characteristic of the Jesus story itself.
As we enter this Advent season this weekend, we are called again to build a better world. Hope can give way to despair if instead of change, we witness unjust systems evolving to perpetuate harm in new ways. But it doesn't have to be that way. We can choose something different. We have the power to begin the world over again.
The lectionary texts our Advent season begins with this year are interpreted by certain Christians to point not to the first advent that many celebrate at Christmas but to a second advent, or God's reign, or God's just future in some form at some point in the future. Certain Christians see these as two advents. I want to challenge us to move past surface distinctions. I want to encourage us to see not two advent events (first with baby Jesus and a future second with an adult returning Jesus), but instead as one entire process of transforming our world into a safe, compassionate, just home for everyone; a process that is distributed over time. The events of our text this week, and the narratives of a baby in a manger, are both parts of the same whole. As we move into Advent, remember, the hope and belief that a new iteration of our world is possible, and that the creation of that new iteration has begun, is what Advent is genuinely all about.