Welcome readers! Please subscribe through the button on the right.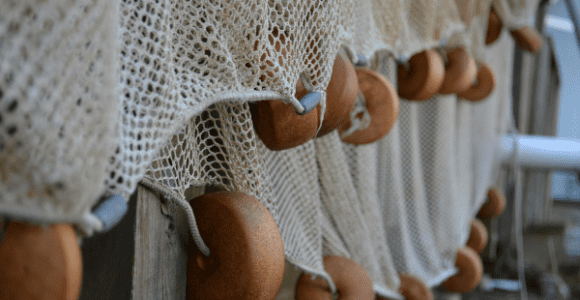 Our reading this week is from the book of Luke:
Once while Jesus was standing beside the lake of Gennesaret, and the crowd was pressing in on him to hear the word of God, he saw two boats there at the shore of the lake; the fishermen had gone out of them and were washing their nets. He got into one of the boats, the one belonging to Simon, and asked him to put out a little way from the shore. Then he sat down and taught the crowds from the boat. When he had finished speaking, he said to Simon, "Put out into the deep water and let down your nets for a catch." Simon answered, "Master, we have worked all night long but have caught nothing. Yet if you say so, I will let down the nets." When they had done this, they caught so many fish that their nets were beginning to break. So they signaled their partners in the other boat to come and help them. And they came and filled both boats, so that they began to sink. But when Simon Peter saw it, he fell down at Jesus' knees, saying, "Go away from me, Lord, for I am a sinful man!" For he and all who were with him were amazed at the catch of fish that they had taken; and so also were James and John, sons of Zebedee, who were partners with Simon. Then Jesus said to Simon, "Do not be afraid; from now on you will be catching people." When they had brought their boats to shore, they left everything and followed him. (Luke 5:1-11)
This story in Luke's gospel conflates two stories found in other gospels. The author of Luke rearranges and modifies the account of how the first disciples joined Jesus (see Mark 1:16-20). In Mark, the initial calling takes place before Jesus begins to teach and heal (Mark 1:16-39). In Luke, it makes for better storytelling to put the disciples' call after Jesus teaches in his hometown (Luke 4:14-5:11). Luke also adds a story about the disciples fishing all night and catching nothing, a story that John's account places after the crucifixion (John 21:1-14).
Luke's version of this story offers us a lot, but first we must unsettle the language of fishing for or "catching" people.
The metaphor of fishing for people has had a long tradition within Christianity for centuries. More recently, it has been interpreted in terms of evangelism, savings souls, missionary work, or "converting the heathen." This interpretation has made Christian missionary efforts vulnerable to being coopted by European and later American colonial, capitalist abuses and the genocide of Indigenous people. Under the mantle of "reaching the world," people who wanted to be fishers of people have done concrete harm while desiring to do spiritual good.
What if the phrase "fishing for people" was never intended to encourage Jesus followers to "save souls," but to liberate those who were being harmed by bringing down the wealthy and powerful from their positions of privilege.
We'll look at the textual evidence for this, next.