Why do you think we view raising kids as hard work?
Lynda: Parenting is 24/7. We make huge time, financial and emotional investments in our kids, with what feels like little appreciation in return.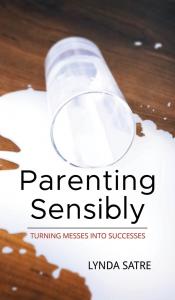 What are some of your greatest challenges as a mom?
Lynda: Balancing time, priorities and trying to meet everyone's needs. There is only so much time in a day, and I can't have it all. Kids get frustrated if they can't attend a birthday party or participate in everything they want, but we have to balance everyone in the family's needs, and pick and choose the most important. As much as I love a clean house, I have had to lower the bar so I could make more time for homeschooling, spending time engaged with the kids and writing this book.
What are some of your greatest joys as a mom?
Lynda: Some of my greatest joys center around the small things, like:
Watching the joy as my child overcomes/masters something
Seeing my children grow up to be loving, responsible ambitious adults
Watching my older sons become expert baby whisperers
When my 8-year-old teaches my 6-year-old how to "carry over" while doing addition problems
Seeing the amazing hair braids my 13-year-old can create
Making krumkake, a Norwegian treat, as a family
Hanging out around the campfire making s'mores
What do you hope women will take away from reading your book?
Lynda: Not only do I hope moms walk away with practical tools, but I also hope the book helps them develop a mindset that will help them navigate the ups and downs of this imperfect parenting journey. The first part of the book covers how and why we parent the way we do, and provides readers with a deeper understanding of personalities and love languages to strengthen relationships. Part II of the book covers various discipline tools and strategies. Part III covers a huge range of topics which will help shape character, work ethic and responsibility. Topics range from chores to financial training. I cover the importance of family dinners, but also provide free recipes and monthly meal planning tips on my website. I hope each parent feels encouraged and equipped to handle situations more effectively.
To connect with Sarah and read more about raising kids, visit www.parentcoachnova.com.