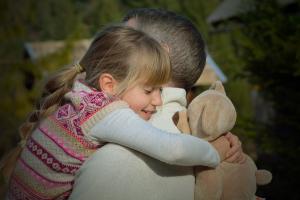 A good dad loves God. When a father seeks the kingdom of God more than the kingdom of men, he will be the dad his children need. When kids see their dad is a man after God's own heart, it speaks volumes as to how they should live their own lives. "A man who follows hard after God, seeking to be a servant and love his wife (as Christ loves the Church)," as a fellow mom commented.

A good dad is steady. With life's uncertainties, our kids need to have a steady rock in their lives. And this doesn't necessarily mean a calm personality—high energy dads can be steady too. "Someone once described my wonderful dad as 'steady.' I would describe my husband the same way…both as a spouse and as a father," said Elizabeth Spencer, a mom who blogs at Guilty Chocoholic Mom. "Especially with me (who cannot under any circumstances be described as 'steady') for a mom, my girls need a steady father: Steady in patience; steady in authority; steady in faith; steady in affection; steady in presence; steady in calm assurance; and steady in expressed love."
A good dad is available. Being available means "being in the moment with the kids whether that's in person or Facetime," said another mom. Single dads can be just as available as married fathers. It's all about making your child feel like they are important to you, that you notice them and that you pay attention to them. In this day and age of digital distractions and the ability to work anywhere, it's more important than ever that dads make being available to their children a priority on a regular basis.
A good dad is a role model. A good father should want his children to aspire to be like him—so he should be the kind of man he wants them to become. Actions speak louder than words, so dads need to make sure they're living the life they encourage their kids to live.
Just like being a mom has its own set of unique challenges, so does being a dad. These are just the tip of the iceberg on what makes a father a good dad. If you have a good dad in your life, be sure to let him know you think he's doing a good job—on Father's Day and every day.
To connect with Sarah and read more about raising kids, visit www.sarahhamaker.com.