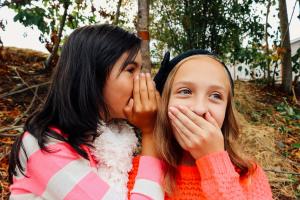 The following is an excerpt from my interview with Courtney Messick on my podcast, "You've Got This."
When my younger daughter was in second or third grade, she went through a rough patch with a close friend—it ended up being so rough, that I separated the girls for a month. While that has since sorted itself out (my daughter and this friend are thick as thieves now), it was a rather rocky time for my daughter.
"I think as parents, we feel so deeply for our kids when they go through tough times with friends," said Courtney Messick, a speaker, consultant and homeschool community leader at www.gracegrowedify.com. "We want them succeed and develop solid connections with their peers. It's almost heart wrenching when that doesn't work out."
Here are five tips on how parents can help our kids develop healthy friendships.
Through modeling. Some kids make friends very easily, while others struggle with finding those social connections with their peers. Messick recommended modeling how to make and keep friends for our kids. "When they see us resolving conflict well within our own friend circle that can help them see how to parallel that behavior with their own friends," she said.
Through practice. The old adage, "To have friends you must be a friend" still rings true today. But sometimes parents struggle with how to help our kids live this motto. "Whenever we go to any event that requires social interaction, I try to model that for my children," Messick said. "I want them to see me going up and striking up conversations with others and making it look easy because I don't want them to see my social anxiety about that or apprehension about doing that."
Through perseverance.
It takes time to nurture relationships, and we sometimes get impatient when we don't immediately click with someone. "I continue to encourage them to keep plugging back in because with friendships, we don't always walk away with a lifelong friend after one meeting," Messick said.
Through self-awareness. Children need to recognize their own role in making friendships work. "I often help my kids become more self-aware of their own actions, such as thinking about whether they hurt someone else's feelings or contributed to the spat," she said. Messick also pointed out that asking kids what they could have done differently really helps them grow as a friend.
Through finding common ground. Kids, like adults, need encouragement to make friends. "Since we homeschool, we have to really focus on getting out there a little bit more and putting forth a little bit more effort to finding peers and connections," Messick related. "But we also talk about how we don't always hit it off with everyone on the first meeting, and how we have to foster those relationships along." She emphasized how important giving kids conversation starter questions tailored to help children initiate dialogue and find common ground.
And when your kids do make friends, it's equally important to have an open door policy with those friends. Welcome them into your home. Spend a little time talking with them. Listen when your kids speak about their friends.
My children often have their friends over to our house—they eat our food, play with our toys, make more noise, but I also get to see how my tweens and teens interact with others, get insights into their life outside our home, and perhaps, provide the only glimpse of Christ these kids will ever see.
To hear more helping kids find and keep friends from Courtney Messick, listen to "Navigating Our Children's Friendships" on the "You've Got This" podcast.