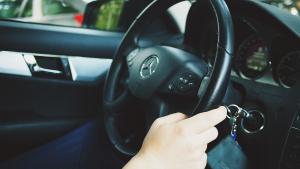 The following is an excerpt from my interview with David Martin on my podcast, "You've Got This."
My oldest turned 16 a few weeks ago, and she's about to get her learner's permit. I freely admit that I'm a little bit nervous about her driving. I don't think she'll be reckless, and I'm not overly concerned about the other drivers on the road. I am, however, a tad anxious about the actual teaching-her-to-drive part.
"I was especially concerned when they were in their mid-teens years, and they wanted to drive as soon as they turned 16," said David Martin, a father of two now-grown sons, a former school counselor and current parent coach. "The hardest thing is when you give them the keys for the first time—you turn them over to God and pray they stay safe on the road."
Here are his tips on how to let your teen drive without losing your mind.
Have clear expectations. If you want your teen to pay for insurance and gas, you need to state that in the beginning. Martin recommended a driving contract that spells out what the teen is responsible for and what you'll pay for. A sample contract should have what expenses the teen will cover and what academic achievements are expected to maintain access to a car. "We paid for the first couple of months, but then he used the income from his job to cover those expenses."
Have no tolerance for drinking and driving. "We made it clear that if anyone who had been drinking got into the car my son was driving, he would lose his driving privileges," Martin said. "Of course, he knew he should not drink and get behind the wheel, but we didn't want him even around others who had been drinking when he was driving."
Set a good example. Don't text and drive. Follow the road rules. Make sure you're not saying one thing and doing another when it comes to driving.
Give them independence now. More teens are not picking up the car keys, and Martin speculated that part of the reason is that many teens are scared of driving. "When parents micromanage their lives, kids become afraid to step out," he said. Giving your kids more opportunities to be independent before they hit their teens is essential to your teen wanting to learn to drive.
Encourage them to drive. Driving is such an adult thing to do, so make sure your teen knows you want him or her to get behind the wheel. "This is a great way to prepare your kids for college," Martin added.
When you let your teen learn to drive, you're telling him or her: We think that you're capable and that you will do your best. "The world can be so much smaller and more contained when we don't let our kids spread their wings," he said.
To hear more on having a teen driver from David Martin, listen to "A Teen Behind the Wheel" on the "You've Got This" podcast.