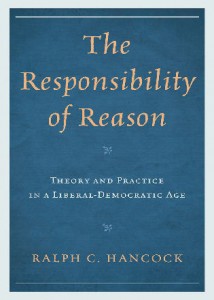 Here is editor John Welch's able summary of Joe Spencer's serious and thoughtful review essay on my 
The Responsibility of Reason (Rowman & Littlefield 2011).  
Joe's review just appeared in  
BYU Studies
.
Joseph Spencer's essay about Professor Ralph Hancock's important

book, The Responsibility of Reason, also opens up further possibilities.

As Spencer summarizes, Hancock argues that it is necessary to recog-

nize that the world of concrete practices bears within itself a set of orga-

nizing forms that are governed by "the good," such that the material

world bears a unified moral topography. While finding Hancock's argu-

ment plausible, Spencer proposes that it may not be the only possibility.

He offers instead a revitalization of the idea of a pluralistic and inconsis-

tent cosmos, using the modern French philosopher Badiou as a model.

Leaving much still to be explored, Spencer concludes: "To understand

what Mormonism has to say in the history of thought, it will be neces-

sary to decide how to conceive of a materialism that nonetheless affirms

(whether within consistent or inconsistent realms) the existence of a

moral order" (73)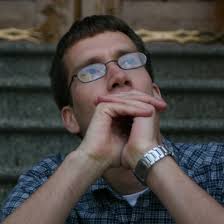 (I think Joseph is thinking about my book in this picture!)
And here is an introductory paragraph from the reply to Joseph that I just penned.
Joseph and I seem to go this far together in our critique of extreme modern rationalism, this idealistic materialism whose effectual truth is Technology — but then one of us somehow loses the thread.  Our parting company seems to me to be owing to two main thrusts of my argument that I seem not to have made clear enough, or that somehow got lost in what is a pretty long and complicated text in which I contend with various philosophical adversaries and rivals from various angles.  These overlooked main arguments are: (1) my argument is not metaphysical but practical (in a way that is inseparable from critical-reflexive); and (2), I do not appeal to some pre-modern Platonic totalizing cosmology (if indeed the ancients can be accused of such), but rather to a Tocquevillean balancing of ancient and modern responses to the Truth and to the openness of the human spirit.
I am hoping Joseph will be able to reply so that we may continue the dialogue.  I thank him for his diligent attention to a pretty difficult book.