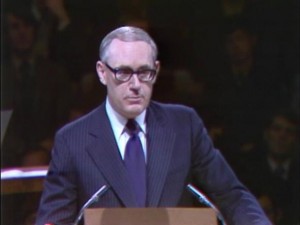 This post is part of General Conference Odyssey
It turns out that doubt was not invented by the highly intelligent and critically thinking Mormon bloggers of the millennial generation!  One could get the impression from our activist bloggers that belief used to be easy and comfortable, before the internet and the discovery of equality and all that.  Weirdly, we find Elder Loren C. Dunn ("How to Gain a Testimony"), already 44 years ago, not only acknowledging doubt but also finding it morally permissible, not a sin at all:
… And now to those who by heritage find themselves members of the Church but perhaps are not sure of their own testimony—to you I would suggest that it is no sin to admit to yourself that you do not know if, in fact, you don't know.
Where Elder Dunn shows himself still clearly a man of his age, and not of our more enlightened times, is in his view of what to do about doubting the Restoration:
The error might be, however, in coming to the realization that you don't know and then doing nothing about it. Any person, either member or nonmember, who wants to know can know. If at present you live by the faith and testimony of your parents and those around you, that is certainly all right. But seek to reach out and gain your own testimony so you can stand on the strength of your own personal relationship with the Lord. It will help you in solving many of your problems and bring peace to your heart.
In fact he goes so far as to affirm that a testimony of the truth of the Church is available to each person: "No matter what position a person holds in this church, there is one thing to which he is entitled, and that is a testimony of its truthfulness."  He continues:
Not only is it the right of every member to know for himself, but every soul, whether member or nonmember, can if he desires receive a realization that God the Father actually lives; that Jesus Christ is his Son, and gave up his life on the cross that we might live, and was resurrected to ascend on high to take his place on the right hand of God; that Joseph Smith was a true prophet and that in reality he saw God the Father and his Son, Jesus Christ, and that he became the legal administrator to restore the kingdom of God to the earth; that The Church of Jesus Christ of Latter-day Saints is that kingdom of God on the earth, and anyone who makes himself worthy for baptism, by faith in the Lord Jesus Christ and repentance, can gain entrance to that kingdom; that the Book of Mormon is true and "a person can get closer to the Lord by following its precepts than by any other book"; and that we have today a living oracle, a prophet of God who stands at the head of this the Lord's church upon the earth.
Lapsing into what must now be considered clumsy and insensitive "apologetics," he goes on – quoting the D&C, to be sure – to speak of the Book of Mormon "proving" certain fundamental claims.
… Next we read in section 20 of the Doctrine and Covenants where the Lord, speaking of Joseph Smith and the Book of Mormon, says: "And gave him power from on high, by the means which were before prepared, to translate the Book of Mormon;
"Which contains a record of a fallen people, and the fulness of the gospel of Jesus Christ to the Gentiles and to the Jews also;
"Proving to the world that the holy scriptures are true, and that God does inspire men and call them to his holy work in this age and generation, as well as in generations of old." (D&C 20:8–9, 11.)
"Proving" is now considered an embarrassing word, since we want to respect everyone's beliefs or lack of belief.  But there are some hard facts relating to the physical origins of the Book of Mormon that are pretty hard to gainsay.
The contemporary indulgence, not to say glorification of doubt assumes that the causes of unbelief are always someone else's responsibility: why wasn't I told Joseph used a hat?  Why isn't the Church progressive? Etc.  This was decidedly not Elder Neal L. Anderson's viewpoint in his October conference address, "Faith is Not by Chance, but by Choice."
---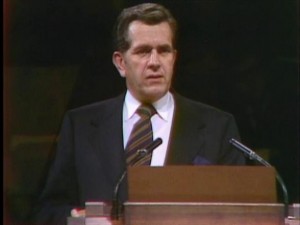 Elder Packer offers a strong and eloquent case for Priesthood Home Teaching in "The Saints Securely Dwell."  "In a world characterized by unrest, even by violence," Home Teaching is the unglamorous, even boring evidence that "this is a people who care for one another."
In reply to a youth who was tired of hearing High Council talks that emphasized Home Teaching and Welfare, Elder Packer compares this focus on fundamentals to "your coach who talks about drill and exercise, and your music teacher who insists on hours of practice for but a few minutes of performance."  Then he compares it to the steady beating of a heart that sustains the organism, and which we take for granted, attaching more importance to a little sliver in our finger.
Most powerfully, he presents Home Teaching as a guarantee that no Church member will ever be left alone.  In a world where human bonds are ever more at risk and loneliness is an epidemic (even or especially among people surrounded by crowds, actually or virtually), this is a fundamental commitment.  For those of us who have grown up with the reassuring and mostly unnoticed steady heartbeat of Church fellowship, it is bracing to consider what life is like for those who really have no one to turn to who might care about them personally.
Here is Elder Packer's statement of the value of Home Teaching – and I can say from my own very imperfect experience over 50+ years, as both teacher and taught, that there is profound truth in what he says:
Through home teaching, tragedies have been averted. Sinking souls have been lifted. Material need has been provided. Grief has been assuaged. The infirm have been healed through administration. While the work goes on without being heralded, it is inspired of Almighty God and is basic to the spiritual nourishment of this people.
The leaders of the Church expend great effort to see that priesthood home teaching works. Though it is much taken for granted, it is always provided for and always will be. The principles of it have never changed, not with changing society or the various additions to programming in the Church. Without it the Church could very quickly cease to be the Church. And I say again, though some activities may be more inviting, none is more important.