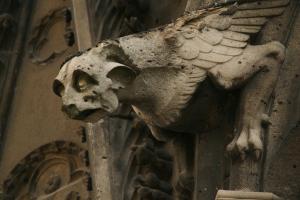 Soul Science: Halloween Edition
Some Additional Thoughts
I was thinking about the show last night and this morning. And I was thinking how I might sum up the message of the show. It goes something like this. Christianity has a bad reputation for being dry, fake, hypocritical, and unspiritual. Well, I can only speak for the Catholic side of things, but that reputation misses the mark considerably.  Since my own personal conversion almost twenty-four years ago, my life has been marked by continuous, practically uninterrupted, close encounters of a supernatural kind. I didn't seek these experiences out, nor did I expect these things.
But through my study and reading, I came to the realization that my experiences are typical. More than that, my experiences are universal.  It is just that people do not recognize their own spiritual side. This theme will be discussed in later episodes, but it is summed up by the artwork tradition that depicts the spiritual battles of St Antony the Great. Salvador Dalí gives us, easily, the most unforgettable of these illustrations. Thus, for the practicing Catholic, reality is Halloween every day. Harry Potter stories are less magical than a trip to the grocery store for toilet paper. I wonder if Rod Serling was Catholic?
Partial, Edited Transcript
Everyone this is John Gravino. Welcome to Soul Science, episode two. Tonight is our special Halloween episode, and  the title of this episode is "Catholicism—Just Like Witchcraft, Only Different."  I want to get right into this spooky picture I have here. I promise you it's not doctored; it was was taken by my wife when we were in  Medjugorje a little more than 20 years ago now. There's a lot I think that this picture is  just sort of the quintessential Halloween picture—but also very Catholic too.
This is a Halloween edition, so it's meant to be light-hearted, but it is important to at least get some of the context of the photograph because the photograph isn't light-hearted. . . . So we were in Medjugorje, and our tour guide took us on a trip outside of Medjugorje to this location.
Site of Thirty Catholic Martyrs
And I'm standing here in front of this plaque with the names of 30 Catholic Franciscan Martyrs. They were martyred in
1945 during the occupation by the Communists. The communist soldiers tried to make them  renounce their faith and they refused to do so,
and so they were martyred.  I've heard different accounts of the actual events. When I was there, the story that I was told was that  the martyrs were actually burned alive.
. . . .
Did a Ghost Show up in the Picture?
After we took a look at the photos when we came back home,  we found this ghostly image above on the road up above and you can see the figure all in black.  I've blown the picture up, and you can do so if you take a look at the slides or the video. You can take a look. Just try and blow up the image, and you'll see what appears to be a woman, but you can't even see her hands. Everything is black. Contrast that with the woman behind, and you can clearly see behind the ghostly woman in black, you have this other woman whose face is very visible. She's very
easy to distinguish, But not so the the black ghostly figure.
Is That a Photograph of the Blessed Virgin Mary?
Now the story gets more interesting (and crazy). I found out, maybe 15 or 20 years later, that there was an actual legend about the appearance of the Blessed Virgin Mary in this town or one of the towns nearby. But very uncharacteristically, she was dressed all in black! She appeared to this man, and it's a very, very unusual story about a bloody handkerchief and how some person appeared to this gentleman with a bloody handkerchief and told him to throw it into the river. The woman dressed all in black who was thought to be the Blessed Virgin Mary said it's good that he didn't throw that handkerchief into the river because it would have brought about the end of the world.
See the Podcast for the Rest of the story. . . .