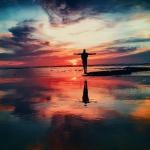 Throughout the ages artists have depicted the aura as a halo or glowing light that appears around the heads or bodies of highly evolved spiritual masters and saints. Apparently, the aura colors around these beings were so clear and so powerful that others could easily see, feel, or sense them. Recently, the aura has been scientifically detected through Kirilian photography and other electronic equipment.
You have many different bands of color in your aura. The outer bands in your aura colors change all the time – depending on what is happening in your life at that time. The one or two colors in your aura that are closest to your body, however, are your life colors. These aura colors typically do not change. The life colors reveal information about your personality, the theme and purpose you have chosen for this lifetime, what kind of life partner is best suited for you, what kinds of careers will be most fulfilling, your strengths and weaknesses concerning money, health, family, and much more. Take my free quiz to learn more about your aura colors – https://www.auracolors.com/aura-colors/aura-colors-questionnaire/
Pamala Oslie is an author, consultant, radio show host, professional psychic intuitive, and aura expert. Pamala has appeared on ABC, CBS, NBC, CNN, FOX, The Dr. Oz Show, The View, The Ricki Lake Show, Coast to Coast with George Noory, Hallmark's Better TV, Gaiam TV with Lisa Garr, and many other television and radio shows. She has also been featured in many national magazines.
Pam is the Founder of AuraColors a site designed to help you create love, joy and fulfillment in EVERY area of your life. She also developed LoveColors, this site is designed to help you find love and friendships by matching you with people who have compatible aura colors.