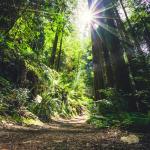 Desire does not cause suffering. Desire inspires you to create new things and new experiences, which is expansive.
It's the belief that you can't have what you desire that causes suffering. …Let go of that belief.
Remember that thing you were really upset about 3 years ago? …No? …Hm…So maybe we don't need to get super upset over what's happening today since we're discovering these things pass? …Or we can experience the emotional upset intensely today and then let it go? …Just a thought.
When you are quiet and allow yourself to be in an expansive state, you'll be able to sense you're greater than your body, that there's more to your Being. It's in this state that you'll be aware that ALL things are possible. Then you'll see everything you desire is already right there with you and bringing that into form is easy.
Pamala Oslie is an author, consultant, radio show host, professional psychic intuitive, and aura expert. Pamala has appeared on ABC, CBS, NBC, CNN, FOX, The Dr. Oz Show, The View, The Ricki Lake Show, Coast to Coast with George Noory, Hallmark's Better TV, Gaiam TV with Lisa Garr, and many other television and radio shows. She has also been featured in many national magazines.
Pam is the Founder of AuraColors a site designed to help you create love, joy and fulfillment in EVERY area of your life. She also developed LoveColors, this site is designed to help you find love and friendships by matching you with people who have compatible aura colors.