The following briefly describes the personalities and the dreams of the different aura color personalities. There are also tips on what you can do to accomplish your dreams. You can go here to discover your aura colors www.AuraColors.com.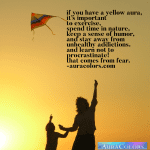 Yellow Aura Color Personalities & How You Can Accomplish Your Dreams
You with Yellow auras are some of the most fun-loving, free-spirited, energetic, and childlike personalities in the aura spectrum. You are wonderful, sensitive, optimistic beings, whose life purpose is to bring joy to people, to have fun, and/or to help heal the planet. You love to make people laugh. There are two different types of Yellow auras, however. People with Yellow auras can either be very shy and sensitive, or they can be the life of the party.
Yellows' dreams are not typically about having a lot of money or being weighed down by a lot of physical possessions; your dreams are about having fun, living with total freedom and flexibility, and having playful friends who truly like you. Feeling young and healthy is also important to you.
Your Yellow aura color's light-hearted optimism can help you keep an open mind and, therefore, find creative, unusual ideas. Often, Yellows' ideas are humorous. To stay healthy and create your dreams, you Yellows need to commit to bringing your creative ideas into form, not procrastinate. (Yellows can be the biggest procrastinators of the aura personalities.) It's highly beneficial for you Yellow aura personalities to exercise, spend time in nature, keep a sense of humor, and stay away from unhealthy addictions (Yellow aura color personalities can be very addictive people.) Healthy Yellows can then create unique projects and/or find ways to heal others.
Pamala Oslie is an author, consultant, radio show host, professional psychic intuitive, and aura expert. Pamala has appeared on ABC, CBS, NBC, CNN, FOX, The Dr. Oz Show, The View, The Ricki Lake Show, Coast to Coast with George Noory, Hallmark's Better TV, Gaiam TV with Lisa Garr, and many other television and radio shows. She has also been featured in many national magazines.
Pam is the Founder of AuraColors a site designed to help you create love, joy and fulfillment in EVERY area of your life. She also developed LoveColors, this site is designed to help you find love and friendships by matching you with people who have compatible aura colors.