The following briefly describes the personalities and the dreams of the different aura color personalities. There are also specific tips on what you can do with your special aura colors to accomplish your dreams. If you don't know or don't remember what your two main aura colors are, you can go here www.AuraColors.com to take the short aura color quiz. We'll be exploring each color's gifts and natural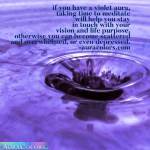 Violet Aura Color Personalities & How You Can Accomplish Your Dreams
If you have a Violet aura, Violets are the inspirational visionaries, leaders, entertainers, artists or teachers who are here to help save the planet. Most of you with Violet auras dream about being famous; inspiring or entertaining people; improving the quality of life on the planet; helping to save people, animals, or the environment; or educating the masses. You Violets have an inner sense that you are here to do something important, that your destiny is greater than that of the average person. Don't worry, you're not sounding arrogant. It's what you Violets have sensed about yourselves since you were young. You're often accused of being an unrealistic dreamer – but don't listen to your critics and skeptics. If you don't go for it, you risk feeling depressed and unfulfilled.
If you as a Violet can stay focused and trust your visions, they can guide you forward. You Violets have the ability to visually project yourselves into the future and see your dreams fulfilled. By seeing the future, you can also discover what you need to do to reach those dreams. Taking time to meditate will help you Violets stay in touch with your vision, otherwise you can become scattered and overwhelmed. You need to pay attention to your visions in waking state, however. If you don't, your visions will reveal themselves in your dreams. Surrounding yourself with empowering or beautiful music and listening to inspirational teachers can also keep you Violets focused and motivated to reach your dreams. Traveling can also inspire you to see there is more to life than the everyday, traditional lifestyle; it can help you believe that anything is possible.
The following briefly describes the personalities and the dreams of the different aura color personalities. There are also tips on what you can do to accomplish your dreams. You can go here to discover your aura colors www.AuraColors.com.
Pamala Oslie is an author, consultant, radio show host, professional psychic intuitive, and aura expert. Pamala has appeared on ABC, CBS, NBC, CNN, FOX, The Dr. Oz Show, The View, The Ricki Lake Show, Coast to Coast with George Noory, Hallmark's Better TV, Gaiam TV with Lisa Garr, and many other television and radio shows. She has also been featured in many national magazines.
Pam is the Founder of AuraColors a site designed to help you create love, joy and fulfillment in EVERY area of your life. She also developed LoveColors, this site is designed to help you find love and friendships by matching you with people who have compatible aura colors.