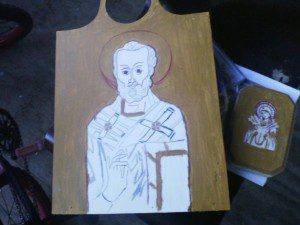 I admit I'm not a real iconographer, not by a long shot, but I've been trying to teach myself how to write icons lately because I feel so drawn to them and I love to paint. And I admit in advance that I'm very likely doing it wrong. But it helps me to pray.
I was just applying a layer of white gesso to a new practice piece, out on the lawn so I could also keep an eye on my daughter on her tricycle, when a little neighbor boy happened along.
Neighbor Boy: What are you doing?
Me: (pausing in my mental repetition of the Jesus prayer) Writing an icon.
NB: What?
Me: Writing an icon.
NB: What?

Me: Painting a special picture of a saint.
NB: What?
Me: Painting a picture of someone.

(pause, in which I go back to praying the Jesus prayer)

NB: Why are you painting it white?

Me: Iconography is a very symbolic practice, and the layer of white represents purity of… it helps the other colors to look brighter and not soak into the wood.

(Prayerful pause again)

NB: It doesn't smell like paint.

Me: There are all different kinds of paint, this one doesn't have a smell.

NB: Whose picture are you painting?

Me: Saint Nicholas.

NB: You mean Saint Nick!
Me: Well…
NB: Santa Claus!

Me: Well, this is the person who was the basis for the myth of…

NB: Up on the housetop, click, click, click! Down through the chimney with good Saint Nick!
Me: Something like that, yeah.
And the kicker of it is, this is one of the Catholic children of the neighborhood.
(photo: A couple of my half-finished practice pieces, Our Lady of Sorrows and Jolly old Saint Nick Bishop and Wonderworker.)