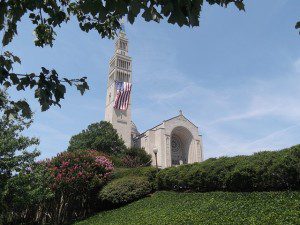 There's been so much to talk about this week– so much I'd rather not talk about, with the Daesh bombings and the horrors in our own country– that I didn't get to tell you what I did on Independence Day. I know, you were probably on the edge of your seats.
On Independence Day, I went to a Byzantine Catholic Divine Liturgy. Our wonderful priest announced it the day before, after Sunday Liturgy.
"You all know," he said in his wonderful Fiddler-on-the-Roof Accent, "Tomorrow eez Independence Day. And we are having liturgy, at ten-forty-five, to pray for our country."
"Ten-forty-five at night?" asked a nervous parishioner in the front of the church.
"No!" said Father. "Ten-forty-five in the morning. You come at ten-forty-five at night, I make hot dogs."
So I came, at ten-forty-five in the morning.
I don't know that I'd ever been to a Mass in the Latin Rite on Independence Day, so I can't tell you what those are like or what the readings are. I can tell you what the Byzantine liturgy is like. It's strange. To sit in that golden, icon-strewn room while the cantor leads everyone a capella in God Bless America and America the Beautiful, when we almost always sing Slavonic hymns at the beginning of Liturgy, is strange. I don't care for those songs as opening hymns at the best of times. And then the liturgy began, as it always does, in chant: "Blessed is the Kingdom of the Father, the Son and the Holy Spirit, now and ever and forever." Amen. How strange to think of that Kingdom, on the day my forefathers declared we'd had enough of kings.
The first antiphon was strange. "Happy the nation whose God is the Lord, the people He has chosen for His inheritance. Through the prayers of the Theotokos, O Savior, save us!" Wait, that's not about us, is it? They were talking about another Nation, thousands of years ago, a Nation who demanded bread and quail and water in the desert and got it, though they didn't enjoy it; a nation who demanded a king and got one, though it wasn't good for them; a nation that survived even when they were scattered to the ends of the earth and that will not pass away until Christ returns. Weren't they?
The second antiphon was also strange. "I will hear what God the Lord proclaims, for He will speak peace unto His people. O Son of God, whose truth has set us free, save us who sing to You, alleluia!" Is that what set us free? My history textbooks mentioned "God and Country," I suppose, but there were also musket blasts and cannon fire and sneak attacks across the Delaware river. What set us free?
The Troparion began, "O Father of Nations and Lord of the Universe." No, that can't be right. This is our day, about us. Bring the focus in a little. He's the God of right here, isn't he? Why bother with anywhere else on Independence Day?