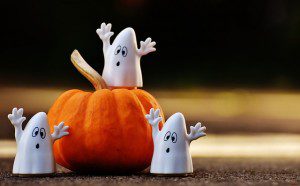 (image via Pixabay)
Halloween is over for the year, and we are sad to see it go.
This year's award for Most Elaborate House goes to my neighbors, who had an actual cauldron full of burning wood to make nice smoke, a loudspeaker of spooky sound effects, and a lean-to built illegally over the public sidewalk to make a tiny haunted house. There were even two enthusiastic teenagers in costume lurking inside the haunted house to scare people. And they gave away Big K soda instead of candy, which was an interesting touch. Congratulations, you've won a pumpkin roll.
The award for Sneakiest Advertising goes to my other neighbors, who were passing out ads for a local play stapled to bags of Cracker Jacks. Congratulations, you've won a caramel apple.
The award for Best Costume goes to the little girl I saw at last week's Mall Trick or Treat, in one of those full-body inflatable Tyrannosaurus costumes which makes it look as if you're skittering around even if you take normal steps inside it. You get a king-sized Snickers bar.
The award for Laziest Costume goes to a young man who came to my house wearing normal clothes, carrying a pillowcase for candy, and whose entire "costume" was talking in a fake Australian accent. He called me "mate." You get a box of raisins.
The award for Best Person goes to Miss Misty, the tireless children's librarian at the branch near the mall. Miss Misty had spooky story time today complete with games and a paper pumpkin craft, and when she gave candy treats to the children she also passed the bucket to the MOMS, which most children's librarians forget to do. And not just cheap hard candy, either. She passed out Hershey bars. Misty gets a million dollars cash.
The award for Frumpiest Person Ever goes to me, as I managed to cobble together a Strega Nona costume out of my actual regular clothes layered on top of one another.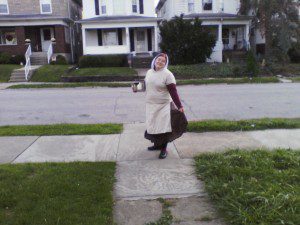 I am Strega Nona every day of the year. Yes, I, a former Charismatic, committed the unforgivable sin of dressing as a witch. AND, it has the added bonus that grown-ups were putting candy into my prop pasta pot even though I was really just escorting Rosie (dressed as Bumblebee). I win a lifetime supply of magically conjured pasta.
But the true winner this year, goes to whoever first came up with the idea of a Trumpkin. Best overall. You get fame, fortune and a basket of Almond Joy. Congratulations.