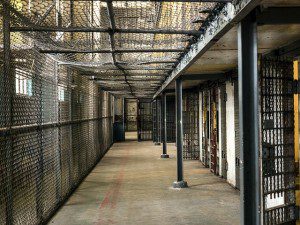 (image via Pixabay)
Wednesday night, just after we watched the final presidential debate, after the candidates discussed other truly important issues like abortion and immigration; while we were all online tweeting our reactions, making "Nasty Woman" memes or agreeing that the woman in question was, indeed, nasty– while this was going on, a man lost his life.
Gregory Paul Lawlor was put to death by the state of Georgia, Georgia's seventh execution this year, for the murder of a police officer in 1997.  He was pronounced dead at 11:59.
Georgia and Texas have both executed seven inmates this year, together making up fourteen of the seventeen executions carried out in the United States since January. This in the midst of a great deal of controversy over whether lethal injection qualifies as cruel and unusual punishment, as more and more states are declaring a moratorium on capital punishment altogether.
In June, our Holy Father Pope Francis recently called for
"universal abolition"
of the death penalty, stating that "nowadays the death penalty is unacceptable, however grave the crime of the convicted person."
Neither candidate mentioned the death penalty last night, but both Clinton and Trump are on the record for supporting capital punishment.
Before his execution, Gregory Paul Lawlor did not make a final statement, and refused the offer of a prayer. I offer my prayer for his soul; for his executioners; for the soul of his victim, Officer John Sowa; for the consolation of their families; for the other police officer whom he critically wounded and who witnessed his execution, Officer Patricia Cocciolone.
I offer my prayer that we become a nation that values all life, from conception to natural death, as we ought.
Saint Dismas, pray for us.