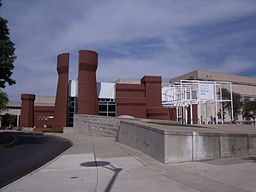 I just turned on the computer to find out that there's been a mass attack on the Ohio State University campus. One suspect killed, nine victims taken to the hospital, students hiding on the floor in classrooms last I read; I'm sure there'll be much more news later today.
I've been trying to think what I can write. I'm not a reporter, and when I try to be I'm bad at it. I'm a poet who likes to write about trees. But I feel that I should say something.
I grew up in Columbus, about five minutes' drive from the Ohio State campus. I lived there for more than twenty years.
I don't know how to write about Columbus. I can't convey what it's like to have a childhood there, because I have nothing to compare it to. I've only ever lived in two places, two college towns; my whole childhood in Columbus, my whole adulthood in Steubenville in the terrible Ohio Valley. I did like Columbus better.
I can't even count how many times I've been on or near the Ohio State University campus; how many times we talked about it as "campus" without having to say which one. They showed photos of "campus" and played the University alumni song every time our local PBS station turned on for the morning, back in the 80s when television stations turned on for the morning and switched to a test pattern at night. They cancelled regular programming on PBS twice a year, to show the OSU commencement instead. My very first tour of an art museum was in the early 1990s, when my Brownie troop took a guided tour of the Wexner Center on "Campus." My very first trip to an art classroom was afterwards, when we went to drop in on one Brownie's mother, who was taking a charcoal drawing class. Afterwards, we went to Orton Hall, to the geology museum, and looked for shell fossils in the stones of the walls.
We drove past the University nearly every time we drove to Mass downtown. My
feminist aunt
whom my mother distrusted taught at Ohio State; we had to drive through campus every time we went to her house in German Village. My grandfathers both went to school there: law school on my father's side and medical school on my mother's side. My grandfather the lawyer met my grandmother the Spanish major at the University, and had an unhappy, faithless marriage. My grandfather the doctor met my grandmother the nurse at the University more than ten years later, and had a happy marriage.
Once, when I was sixteen, I tricked my mother into letting me audition for a two-week course of BFA acting lessons with guest artists, at the university. She'd filled out the application form for me, saying that I wanted to participate in the creative writing summer program as my first choice, but I whited out her writing and said my first choice was the acting program. And I auditioned, and I got accepted, and I haunted "campus" for two weeks, learning improvisation and how to read Shakespeare. It was the most fun I've ever had. I fully expected that I would go to college at Ohio State University as an acting major.
But one thing led to another, and I didn't. I was an English major at a different college near Columbus, for undergraduate, and got most of a philosophy MA here in the Ohio valley. The college I went to for undergraduate had a fine library, with sofas hidden in odd corners where I could cut class and read undisturbed– that's the most important thing that you should do, if you want to produce quality work as an English major. You should cut class, lie down on the itchy sofa behind the Law texts, and read good books of every kind. It will teach you how to write, how to mimic different styles. You will turn in your writing assignments and your professors will wonder where you got such a vocabulary and a command of sentence structure, and you'll say nice things about the textbooks and the writing activities. But really, it's because you hid in the library and read books.
When I was hiding in the library, I discovered and devoured the work of James Thurber.