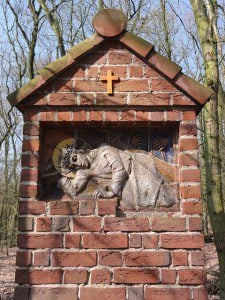 We adore You, O Christ, and we bless You, because by Your holy Cross you have redeemed the world.
Surely he took up our pain
    and bore our suffering,


yet we considered him punished by God,




    

stricken by him, and afflicted.




But he was pierced for our transgressions,




    

he was crushed for our iniquities;




the punishment that brought us peace was on him,




    

and by his wounds we are healed.


 We all, like sheep, have gone astray,


    

each of us has turned to our own way;


and the

Lord

has laid on him


    

the iniquity of us all.
 He was oppressed and afflicted,
    yet he did not open his mouth;
he was led like a lamb to the slaughter,
    and as a sheep before its shearers is silent,
    so he did not open his mouth.
He has fallen.
The Son of God has fallen.
The Lover of Mankind has fallen under His cross.
He came down from Heaven to Earth in order to take you to Himself; now He goes lower, and falls on the ground where you lie. The guards are impatient. There is a long walk out to the place of execution in the heat of the desert sun. They want to get it over with, but their prisoner is too weak. They are whipping Him, kicking Him, pulling His torn and bleeding arms, yanking on the robe that sticks to the scourge wounds on His back. They are angry.
God has fallen, and Man is angry with Him for His weakness.
This is our King, in Whom lies all of our hope.
If you are a Catholic, you worship a God who fell– not a God who knows, intellectually, what it's like to fall, but a God who fell. You worship a God who was exhausted, ruined, regarded as nothing and cast into the street. You worship a God who had scourges on His back and arms. A God who was ugly. A God who made a fool of Himself. A God who deliberately created an object so heavy that He couldn't carry it. He picked it up anyway, and fell under its weight, and His children whom He loved were angry with Him.
Why would God do such a thing?
He did this out of love, to transform and redeem your fall.
He fell, so that falls might be redeemed.
Our God fell, so that a fall might become a thing of God.
From Good Friday until the end of time, the meaning of a fall has been redeemed. Failure has been sanctified. When you see someone who is ruined, broken, fallen, destroyed– when you see a failure, an embarrassment, someone who is less than worthless in the sight of the world– you see an icon of the God who fell. Everyone who helps those whom the world regards as failures, does as much for the God who fell.
Whatever you attempt, in all of your life, when you fail– and you will fail, all mortals fail–  you become a sign for the whole world– a sign of the Cross, a sign of the God who fell.
God falls with you. God will revive you, if you take hold of Him; he will rise, and take you with Him to Calvary.
All mortals go to Calvary. There's no avoiding it. Calvary is the end of life, and all life ends in this fallen world.
But we who reverence the God who fell will find, through Calvary, the way Home.
(image via Pixabay)
Steel Magnificat will be meditating on the Way of the Cross on Wednesdays and Fridays throughout Lent. All Stations are linked in this post.