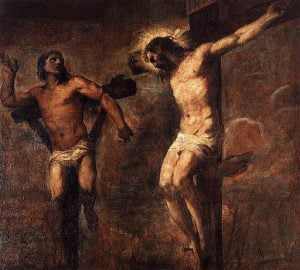 Somewhere,
they are lifting up the evening sacrifice.
Scarlet stains the stone before the Holy of Holies
where once they hid  Mercy Seat
but I will never see that stone.
Somewhere,
they are making ready for Shabbat–
finish all your labors now
for night is coming
and the day of solemn rest.
But I will never see another night.
Somewhere is a Seraph
whose burning eyes reflect the Glory
Who, veiling hands and feet and face
adores the Presence
Holy
Holy
Holy
but I cannot hear the seraph cry, not yet.
All that I can see
from here
is you
and hear Your voice pronounce the words of pardon:
This Day, you will be with me in Paradise. 
(image via Wikimedia Commons)