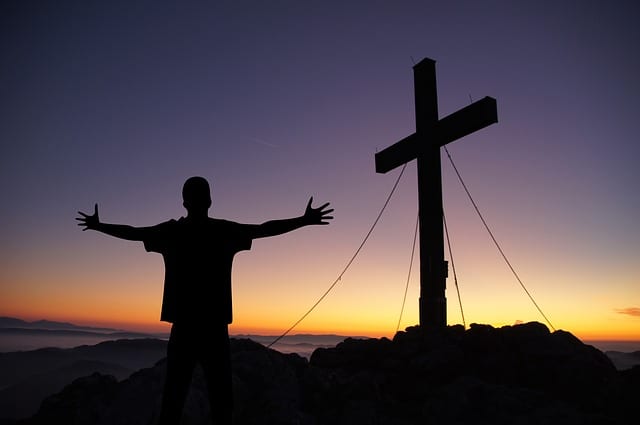 A Reading from the Holy Gospel according to Luke:
Jesus came down with the twelve
and stood on a stretch of level ground
with a great crowd of his disciples
and a large number of the people
from all Judea and Jerusalem
and the coastal region of Tyre and Sidon.

And raising his eyes toward his disciples he said:
"Blessed are you who are poor,
for the kingdom of God is yours.
Blessed are you who are now hungry,
for you will be satisfied.
Blessed are you who are now weeping,
for you will laugh.
Blessed are you when people hate you,
and when they exclude and insult you,
and denounce your name as evil
on account of the Son of Man.
Rejoice and leap for joy on that day!
Behold, your reward will be great in heaven.
For their ancestors treated the prophets in the same way.
But woe to you who are rich,
for you have received your consolation.
Woe to you who are filled now,
for you will be hungry.
Woe to you who laugh now,
for you will grieve and weep.
Woe to you when all speak well of you,
for their ancestors treated the false
prophets in this way."
Do you have any idea how revolutionary Christianity is?
The sheer audacity of Christianity, the shocking radical nature of Christianity, is something our society so easy to forget. You might be lulled into thinking that Christianity had something to do with being conventional or respectable, and fellow Christians might be the first to present it to you that way, but it isn't so.
If you truly strive to follow Christ, you will set the world on its head.
I have seen people overlook this passage with embarrassment, as if it isn't really important, but this passage is key. Christ did not come to abolish the Law, but to complete it, and this passage is a great part of the Law's completion. This is the innovation of Christianity. This is the revolution. What was said before has not passed away; it has been drawn into the Gospel and made clear in a way we couldn't see before, through the Blesseds and the Woes.
Are you poor now? I have heard people talk, ridiculously, as though this verse isn't about material poverty, but it's about all kinds of poverty, however we lack. Are you poor now? Do you lack? Do you lack the resources to be totally self-sufficient in a way you've been told you ought to be, and does that hurt? Does that make you suffer? The Lord does not call you a taker and a burden, someone who should have planned ahead. The Lord says, "blessed are you." You may have His Kingdom in place of the kingdom you lack.
Are you hungry now? Does your stomach hurt? Do you long for what you don't have, and does it torment you? The Lord does not tell you to stop whining and be thankful for what's yours. The Lord promises you that this hunger will be satisfied.
Are you weeping now?  The Lord does not tell you to man up. The Man of Sorrows is with you, mourning. Someday He will take you with Him to His Father's kingdom and comfort you.
Do people hate you? Do they exclude you and persecute you because you tried to follow Christ? Does the Parish Gossip spread rumors about you for being one of those people, the wrong kind of Christian? Do you not have a friend left? Are you so humiliated you're afraid to go to church this Sunday because you took a stand for the Gospel– the real one, the messy and inconvenient Gospel, not the popular abridgment that the Christians around you were following? Are you afraid to catch anybody's eye for fear of their glares, because you spoke up for the wrong person? Do you listen to the liturgy standing in the foyer or sitting on the choir loft steps because you're worried someone will bully you if you sit in the congregation, because you joined Christ on the side of the oppressed? Are you scared to walk up to receive Communion because the priest might humiliate you in front of the whole church, again?
The Lord says, "rejoice, and leap for joy on that day." He knows you probably can't muster that feeling right now, but he wants you to know that it's there. Your ancestors treated the prophets in just this way. This isolation is not evidence that you're not really a Christian. This is what it's actually like, to be His follower. It doesn't look like the world tells you it's going to look. It doesn't even look like the majority of people who call themselves Christian tell you it will. It looks like this. Keep fighting for the Gospel.  Keep standing up for the truth. Love the Lord your God, and love your neighbor as yourself. Feed the hungry, give drink to the thirsty, clothe the naked, shelter the homeless, protect the oppressed, forgive your persecutors, never stop speaking out against injustice. He is here with you, and your reward will be great in Heaven.
Woe to the rich. Woe to the comfortable people who brag that God rewarded them with this salary and this luxurious house and this fancy car because of their obedience to Him, and that those who don't enjoy the blessings they do must not have been good Christians. Your God was never Christ; it was comfort, and you have received your consolation already.
Woe to you who are filled now. Woe to you who are satisfied with the status quo and don't want to change anything to help your neighbor before it's too late.  Someday, you will see how far the life that satisfied you fell short of the Gospel, and on that day you will know hunger.
Woe to you who laugh now. Woe to you who mock the plight of those less fortunate and the efforts of those who try to help them. Woe to you so comfortable that every serious thing seems like a joke. Someday you will see your neighbor as Christ does, and weep for what you might have done to help.
Woe to you when all speak well of you. People don't speak well of those who live the Gospel. They didn't speak well of Christ or His disciples. They speak well of false prophets who tell them what they want to hear. Woe to you, if you are that kind of prophet.
This is the message of Christianity. This is the shocking, embarrassing, inconvenient revolution that is Christianity: the opposite of all the world holds to be true. Blessed are the poor and woe to the rich.
(image via Pixabay)