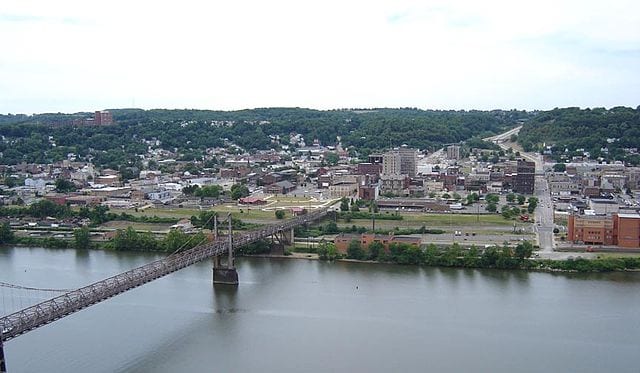 This happened a couple of months ago, in Spring. I was downtown, here in Steubenville, trying to catch a bus.
I wanted to take the 3:15 bus home. I had a lot to do and I'd already been waiting an hour. The city buses during the two o'clock hour in Steubenville don't drive a normal route; instead, they pick up teenagers from Steubenville High School, known as Big Red. Other passengers are allowed to ride the bus during that hour if they want to, but I didn't. Big Red students are extremely loud and rude on the bus. They harass and bully people. Drivers try to handle that as best they can. They've installed security cameras. They can and do ban problem students from riding, for a few weeks or even permanently, as a punishment for being too violent or belligerent. They've even called the police, but It just keeps happening.
I usually wait for the 3:15 bus instead of riding during the school route hour, but lately that isn't enough. For some reason, during the months that school is in session, Big Red students don't all go home on the buses in the two o'clock hour. When school is in session, there are always about twenty of them waiting at the bus station up the street for the 3:15.
The week before, I'd encountered the group shoving each other and sexually harassing three young women who were rolling their eyes and trying to ignore it. I'd hopped another bus going a different way, and ended up uptown at the mall for the next hour before I could get home, because I didn't feel very safe. But on this particular day, the students were quieter and I was feeling defiant. I strode into the throng and managed to get a seat on the bus.
There was the usual amount of swearing, yelling and crude jokes. Some boys called to a girl to come sit on their laps. She declared that she was a lesbian and sat on another girl's lap instead.
Two young men, about sixteen or seventeen years old, plumped themselves down in front of me, chuckling.
One boy held up his phone, with the camera turned on, so the whole screen was an image of his own face. He was not holding it directly in front of him but a little to the side so it was right in front of my eyes. The boy in the seat next to him chuckled.
I tried to stare into space in a slightly different direction.
He moved the phone. His friend chuckled.
I looked further away, and he moved the phone again, right into my field of vision. He could see me over his own shoulder on the camera. No matter where I looked, he held it up to me. His friend chuckled again.
The boy was making faces– his mouth was wide open and his tongue was waggling around like a worm in the most slobbery, suggestive way. His eyes were twinkling. His friend kept chuckling. He kept up the tongue-lapping with the phone in front of my eyes for more than a minute.
The bus was already moving so I couldn't get off.
Steubenville students act like this all the time.
I still can't bring myself to watch Roll Red Roll on Netflix. I have to live here. Those events took place 11 months after my own rape (not by a Big Red student) and I had to watch as everyone around me rallied to shield Trent Mays and MaLik Richmond. I can tell you all about what happened without watching it again on a screen. People try to act as though there are two distinct cultures in Steubenville, and the Catholics are different from the "townies," but they're not. Not at all. They act the same. I watched as devout Catholics from Franciscan University condemned Jane Doe for going to the party, just as the Nelson sisters apparently do in that film. One of my husband's "faith household" brothers, a man in the Marine corps, a man who had been a groomsman in our wedding, was one of the people blaming her. I can only imagine what he thought of me if that's what he thinks of rape victims. One of my friends from the Catholic moms' group that took me off the email loop to punish me for talking about what happened to me was trying to convince everyone that Big Red football is a good and healthy part of Steubenville culture, not something that should be condemned, and she was still going to take her children to games. One of the ladies who worked at the crisis pregnancy center talked about how she sympathized with Richmond when she saw him at church.
And they haven't changed their minds.
When you watch Roll Red Roll– and I do hope you do– the thing to remember is that the Big Red rape case isn't an isolated incident. The town has always been like this. People who left Steubenville in the 90s can tell you stories about Big Red that are just as bad, and it's just as bad now. The students act like animals, all victims are blamed for their own suffering by the entire culture, and then it happens again.
You also have to remember that no one has changed, here, in the years since that case. The culture is the same. They still worship that ridiculous school. They deck out their houses in red and black before football games. They're not ashamed of what was done to Jane Doe– to all the Jane Does there have been over the years. They're just resentful that anyone would object to the way they behave. They're resentful that there could ever be such a thing as a consequence for a teenage boy who wants to act like a feral animal. They resent that anyone would look down on them for acting feral. They're proud of who they are. They like it. They like to hurt others.
That's why it's so important not to forget. Not because we're scapegoating a whole town for something that happened once way back in 2012. But because they have never reformed. They embraced it and continued on as they were, a little more beligerant but otherwise unchanged.
They don't even have the self control to ride the city bus.
(image by Mike Sharp, courtesy of Wikimedia Commons.)