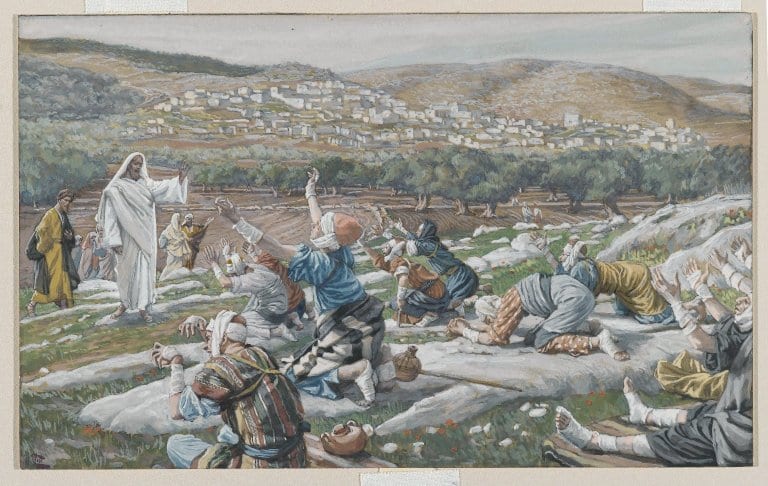 A reading from the Holy Gospel according to Luke.
 As Jesus continued his journey to Jerusalem, he traveled through Samaria and Galilee.  As he was entering a village, ten lepers met him. They stood at a distance from him and raised their voices, saying, "Jesus, Master! Have pity on us!"And when he saw them, he said, "Go show yourselves to the priests." As they were going they were cleansed. And one of them, realizing he had been healed, returned, glorifying God in a loud voice; and he fell at the feet of Jesus and thanked him. He was a Samaritan. Jesus said in reply, "Ten were cleansed, were they not? Where are the other nine? Has none but this foreigner returned to give thanks to God?"Then he said to him, "Stand up and go; your faith has saved you."
Christ was on His way to Jerusalem.
He was going to Jerusalem, and that was important. He needed to get to the City of God. It was all part of the plan. Christ was doing the Lord's work.
He was on His way through Samaria and Galilee. Galilee was where he was from, but it wasn't a nice place, not a place where you stop. Samaria was worse.  Samaria was where the enemy lived, the foreigners, the dangerous people who didn't do what people ought to do. Jews hated Samaritans and Samaritans hated Jews, and there were plenty of practical reasons for this. Jesus wasn't supposed to stop and talk to Samaritans. He especially wasn't supposed to stop and talk to lepers. There were rules about this sort of thing for a reason. As for Samaritan lepers– never in a million years.
Every culture has its Samaria: that place you're not supposed to go to but can't always avoid. The place where you lock the doors of your car and get through as quick as you can. You have a Samaria in your community, and I have one in mine. Every culture has its Samaritan Leper: the person that good people avoid with very good reason. Don't make eye contact, don't talk back to them, call the police just in case, hope they go away.
That was the place where Jesus was, when Jesus was doing what He was supposed to be doing. Those were the people who shouted at Him– ten lepers, at least one a Samaritan leper. The worst person there could ever be.
If the worst person there could ever be called to you for help in the place you're not supposed to go– what would that look like to you? A homeless person shouting at you as you waited at a red light in the sketchiest of neighborhoods, perhaps?   that's what was happening to Jesus as He went through Galilee and Samaria to Jerusalem.
What would you do? What would a responsible person do? One who knew they were on the way to do the Lord's work somewhere else?
Jesus took a moment to help. He gave them directions. He turned and talked to the lepers, which is something you're not supposed to do.
"Go and show yourselves to the priest."
And they did.
They went on their way to do something the Lord told them to do, and they were right to do that.
And as they were on their way, they found that they were cleansed.
Nine of them went on to the priest, doing what the Lord told them to do.
The tenth ran back. He glorified God in a loud voice. He feel at the feet of Christ and thanked Him, instead of doing what He was supposed to do. This man was a Samaritan.  He was a person who, leper or not, would always be unclean. Even after being healed, the life he faced was always going to be the life of an outcast who never did anything good. He was the worst person that could ever be.
And he was the only one who got it right– he and Jesus.
Because a life lived rightly does not consist of walking from one place to another in one simple errand that must not be deterred. A life lived rightly involves people. A life lived rightly means seeing people and talking to them. You ought to stop in the middle of your very important mission to give directions, even if you're in the worst part of town and even if the people asking are Samaritan lepers, the worst people there could ever be. You ought to stop in the middle of going to see the priest as God told you to do, so that you can shout for joy and thank someone. These things are not distractions. They are the point.
They are how you get to Jerusalem.
You will never get to Jerusalem if you don't stop along the way.
(image via Pixabay)