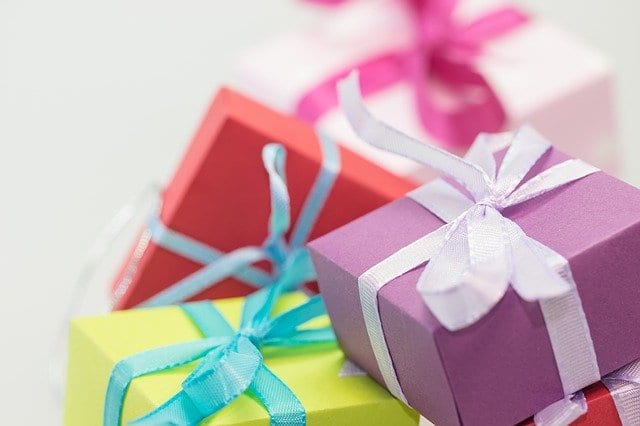 I don't know who needs to hear this, but please check on your parish Giving Trees.
Most of the Catholic churches I've been to have had a "giving tree" in the foyer for Christmas, and I can't imagine that that's some kind of exclusively Catholic tradition. If you're Christian, celebrate Christmas, and go to church, you probably have seen something like this in your community.
It works like this: the poorer members of the parish write down their requests for gifts and their contact information on a list in the late fall. Someone at the parish cuts out a bunch of tacky paper Christmas ornaments and writes the name of a requested gift on each, then uses them to decorate a Christmas tree in the parish foyer very early in the season (the one in my parish has been up since a week or two ago). The more well-to-do parishioners are supposed to look at the tree and each take a gift tag ornament home, then go out and buy the gift, wrap it, and bring it back to the parish with the tag on it so that the people who run the Giving Tree can give the gift to the person in need in time for Christmas. At my church, all the presents are due back by this coming Wednesday so there's plenty of time to deliver them. This week is the deadline.
As I went into Mass just a couple of hours ago, I saw that most of the gift tags had been taken off the trees, and there were lots of beautiful presents arranged under the trees. People had fulfilled a lot of the requests, but there were some left. And the ones that were left broke my heart.
It looks as though people took the requests for toys for kids and fulfilled them; there wasn't a Christmas toy request left on the tree. And I know that it's really fun to buy toys for kids. I love doing it myself. Christmas toy shopping is the best.
But now, the toys have all been bought, and the only requests on the tree are for un-fun presents, presents it's not so exciting to shop for. I saw lots of requests that sound like they came from elderly people– perhaps the residents of the state-run nursing home downtown.
My heart broke.
Based on the tags, their Christmas sounds bleaker than bleak. I saw requests for "Pepsi," "soft snacks," "small artificial plant," "two pairs of diabetic socks." Little things that nobody should be so poor that they can't grab them for an impulse purchase at the grocery store. But these people are so desperate, they're hoping to get Pepsi and socks for Christmas.
I grabbed a couple of tags myself, but I can't afford to do very much alone.
Please, if your parish has a Giving Tree, go check on it tonight or tomorrow. Don't put it off, because the deadline is probably fast approaching. Take a tag even if it's not for a fun present. Take as many tags as you can afford and make sure to bring back the gifts before the deadline. Wrap them nicely if your parish is asking for wrapped gifts. Maybe stick a very nice card in there with the gift and have your children decorate it. Imagine being so poor you couldn't buy socks, and so alone that you had to ask a stranger to get them for you for Christmas.
It's so much fun to shop for kids, and kids deserve a happy holiday. But don't forget the adults and especially the elderly or disabled people in your community. Everyone deserves to be remembered and have their needs met. Everyone ought to feel loved, especially at Christmas.
(image via Pixabay)
Steel Magnificat operates almost entirely on tips. To tip the author, visit our donate page.