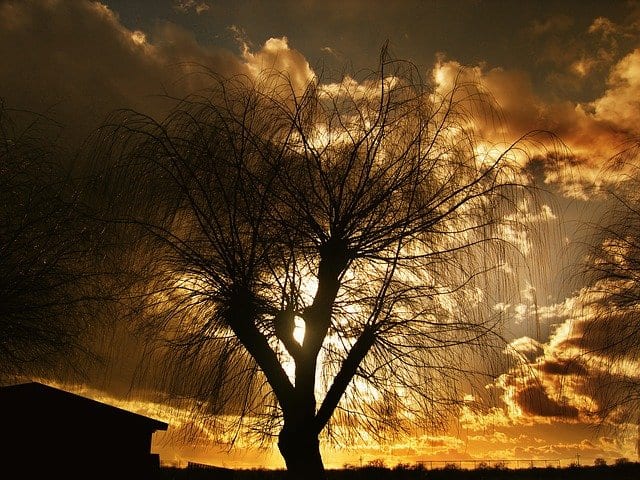 It got cold last week.
It was going to frost, or get close to it.
Time to bring in the garden.
I have some vegetables that will keep in a light frost. Kale will live right up until a hard freeze, and it's pleasant to eat if it's frozen and then picked. My autumn peas haven't even blossomed yet. The broccoli doesn't seem to be bothered. But this was the end of peppers, the eggplant and the fresh herbs. This was the dashing of my last hope that one more of these hard little buds on the pumpkin vine would actually turn into a fruit.
The patch where the onions used to be is full of dying pumpkin vines now, a miserable failure. I planted four Jack-o-Lantern seeds and all I got was a single orb, small as a pie pumpkin. The onions that grew on that patch of ground before the pumpkin were abundant. We're still eating them months later. But I've nothing to show for my pumpkin vines but one sulky green-orange winter squash.
I am an onion. Teresa of Avila said that the soul was a castle, but I'm not fancy enough to be a castle. I tried for years to be a castle, but I'm no good at it. I'm an onion: round, fat, shiny, solitary. I dress in brown or cream, burgundy or purple. I keep well in dark, cool rooms. On the outside I am awkward noisy paper, but inside it's all tears and acidity. If you break me apart you will see I come in layers. The inermost layer, the heart where you'll sometimes see a streak of green, is a tabernacle where Christ dwells. The outer layers waver between fervor and agnosticism, but the heart knows. Sometimes what the heart sees is apparent to the whole onion, and sometimes the rest of me thinks the heart is out of its mind.
I suppose that when all of me sees clearly what the heart knows, that will be what's known as the Beatific Vision.
Just at that moment, in the garden, I felt like every layer of me could see it– not around me, already fulfilled, but coming toward me unstoppable as a freight train. Death, judgment, Heaven, Hell, immanent here in the garden.
This ae night, this ae night,
Every night and all,
Fire and fleet and candle-light,
And Christ receive thy soul.
I picked my peppers– some were all the way ripe and most were green, but there was no time to let them ripen. I pulled up the rosemary and the basil that hadn't bolted yet. My great big basil bush was so firmly into the ground, I hand to grab it with both hands and yank as hard as I could until it came out all at one including the dirt-caked root. The scent went everywhere like incense, chrism all over my hands.
When thou from hence away art past,
Every night and all,
To Whinny-muir thou com'st at last;
And Christ receive thy soul.
If ever thou gavest hosen and shoon,
Every night and all,
Sit thee down and put them on;
And Christ receive thy saul.
If hosen and shoon thou ne'er gav'st nane
Every night and all,
The whinnes sall prick thee to the bare bane;
And Christ receive thy soul.
A whinny is a gorse, kind of thorn bush that doesn't grow around here. We have other kinds of pest plants: poison ivy, poison oak, cow-itch vine. My Celtic ancestors had whinny. A whinny-muir is a place you can't escape without good sturdy shoes, because it's overgrown with agonizing weeds that tear your feet to shreds. LaBelle is similar– a painful place I came to many years ago and can't see my way out of. And, in many places, the derelicts and vacant lots are choked with unkempt weeds. So I suppose that Steubenville, and this poor neighborhood of LaBelle, is a kind of Whinny-muir, to me.
LaBelle is truly beautiful in autumn. Steubenville is beautiful in autumn. Everything that shouldn't be beautiful is glorious and autumn. The poison ivy and Virginia Creeper go red when the bracken they're choking are still green, and then those leaves change too: cream, purple, red like the skins of those onions. The whole world is color and light, as lovely as it is painful. There are worse things than finding yourself trapped in Whinny-muir, in Autumn, in your good sturdy mud shoes, bringing in the garden and thinking about death.
From Brig o' Dread when thou may'st pass,
Every night and all,
To Purgatory fire thou com'st at last;
And Christ receive thy soul.
If ever thou gavest meat or drink,
Every night and all,
The fire shall never make thee shrink;
And Christ receive thy soul.
If meat or drink thou ne'er gav'st nane,
Every night and all,
The fire will burn thee to the bare bane;
And Christ receive thy saul.
The Brig o'Dread is the bridge they you have to cross to even get into purgatory. If you fall off it, you go to hell. If you don't, the fire purifies you until you wind up in Heaven.
Steubenville has a Brig o'Dread. It's a suspension bridge that leads out of the city to Weirton, West Virginia– a purgatorial place, to be sure, but no more so than anywhere else around here. They surely say the same about us. A Franciscan University student I know once dubbed that structure "the Mercy Bridge" because the suspender cables seem to reach out at you like the rays of light in the Divine Mercy image, only they're steel gray instead of red and white.
Is the mercy of God dreadful?
I've always found it to be dreadful.
If you truly want to, you could jump off the Mercy Bridge. That's a freedom that won't be taken from you. But if you cling to mercy, you'll one day get out of the place where you are and start the process of becoming who you ought to be. That will hurt. But it won't hurt forever.
Steubenville looked as if it were on fire just then– orange clouds in a yellow-white sky as the sun went down over a world turning gold. LaBelle was going up in cold flames on an Autumn night, and it would soon be frost.
This ae night, this ae night,
Every night and all,
Fire and fleet and candle-light,
And Christ receive thy soul.
I carried the garden inside.