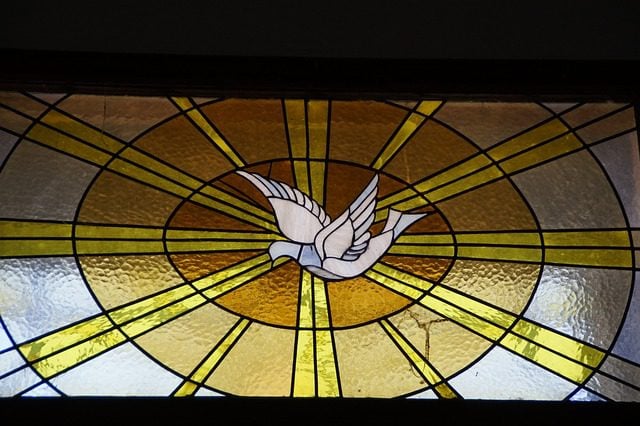 I met a gentleman in the combox the other day, a Charismatic. He was angry with me.
He explained that my trauma from the Charismatic renewal is self-inflicted and not real, because the Charismatic Renewal is actually nothing but a good thing. Being in a "community" and submitting yourself obediently to a spiritual director is unproblematic and genuinely good, the only way to be a Christian. He went on and on about what a terrible person I was, so unlike himself and faithful Charismatics. And right before I banned him, he said "Why are you afraid of spirit-filled Christians?"
Spirit-filled Christians. Now that's a phrase I haven't heard in awhile.
When you're Charismatic, you call bombastic displays of piety "spirit-filled." People who pray in tongues easily are spirit-filled. People who have prophecies and tell you what to do are spirit-filled. A Mass or a prayer meeting where everybody is clapping and making noise is spirit-filled.
As for me, I have come to a different conclusion about what a spirit-filled Christian would look like. At least, if the Spirit we're talking about is the Holy Spirit.
The fruit of the Spirit is love, joy, peace, forbearance, kindness, goodness, faithfulness,  gentleness and self-control. 
We know trees by their fruit.
If someone is filled with the Holy Spirit, they will bear the fruit of the Holy Spirit. That's how you will know them. If they bear a different fruit, there may be a spirit involved, but it's not the Spirit of God and it's nothing a Christian ought to obey.
A person who is Spirit-filled will be loving, first of all. We know that the greatest of all is love. Then come joy, peace, forbearance, kindness, goodness, faithfulness, gentleness and self-control, all of these flowing from love which is the greatest.
There are different ways to show love; we all know that. There are a world of ways to love. Some people offer hugs and some people remember your birthday and drop by with a gift. Some people offer to watch your children for you or bring you a casserole. Some people know exactly the right words to say and aren't afraid to talk to you or send you a note. I used to have a friend who would send me letters in an envelope that was stuffed with sequins and colorful craft feathers, so I'd have a colorful surprise when I opened it. Some people love just by listening. Some of my dearest friends have loved me by praying with me– yes, including by praying in tongues and laying on hands and having a "word from the Lord."  I don't object to that kind of prayer if they ask first. Love is not a thing that restricts and forces uniformity but opens and makes unique; it's not a thing that is stagnant but as diverse and beautiful as all of us made in the image of God are. There are as many ways of loving as there are of being human.
Love is patient, love is kind. 
There are infinite things that love can do, but there is a list of things that love will never do as well. It does not envy, it does not boast, it is not proud. It is not rude, it is not self-seeking, it is not easily angered, it keeps no record of wrongs. 
Everyone makes mistakes, but if a person isn't at least trying not to be envious, boastful, proud rude, selfish, wrathful and grudge-holding, that person is not loving. If they're not making a conscious effort to repent when they find themselves acting that way, they are not loving. Love does not delight in evil but rejoices with the truth.  It always protects, always trusts, always hopes, always perseveres. Those are some of the marks of a loving person.
A person who is filled with the Holy Spirit is loving, first of all. No love is a deal breaker. They are also joyful, which doesn't necessarily mean happy and skippy all the time.  That's more of a personality trait. The spiritual fruit of joy is different. It always makes me think of Mr. Rogers, personally. Remember how he'd have guest artists on the show and take genuine attentive, joyful interest in whatever their random talent was? And he'd show a factory tour and be overwhelmed with satisfaction at just watching people make things? And then Marlin Barnette would show up at the television house in her track suit and ask him to do really simple exercises with her or Chef Brockett would come by with an extremely lame puritan snack he invented, and Mr. Rogers would smilingly do the exercises and taste and praise the snack? That's what I think of, when I think of the fruit of joy. Delighting in people and in creation, and taking the time to appreciate them because they are worthy of that delight and appreciation. That's what I call joy.
A Spirit-filled person is peaceful. That doesn't mean they don't suffer from anxiety; it means they're always looking for peaceful solutions rather than picking fights or retaliating. A Spirit-filled person is patient. That doesn't mean they are a pushover; it means they don't blow their stack with people. Forbearance is a lot like patience: a Spirit-filled person will continue being patient even when they're going through a rough patch. That doesn't mean they never complain or stand up for themselves, but they do what they have to do peaceably as they can and without resorting to abusing others.
A Spirit-filled person is kind and good, and there are no strings attached. They like to help people and aren't always strategizing how their helping people is going to turn around and help them. They are faithful, which doesn't mean they don't struggle with doubt. Everybody struggles with doubt. But they persevere in their doubt and eventually find the other end. They are gentle and self-controlled rather than erratic and forceful.
Every one of us struggles with these things. Nobody's perfect. And a good con artist can fake them, at least for a time. But if you find a person who is filled with the Holy Spirit, these are the kinds of traits they'll display– in their own unique way because everyone is different, and not according to the cookie cutter you've decided a saint should fill.
The things I saw most often in the Charismatic Renewal were not the fruits of the Holy Spirit. If I speak in the tongues  of men and of angels, but have not love, I am only a resounding gong or a clanging cymbal. If I have the gift of prophecy and can fathom all mysteries and all knowledge, and if I have a faith that can move mountains, but have not love, I am nothing. If I give all I possess to the poor and surrender my body to the flames,  but have not love, I gain nothing.
It's not that speaking in tongues or having a Word from the Lord or falling over backward slain in the spirit or other bombastic signs are bad. I've met genuinely loving people who have them. I've sometimes prayed that way myself and most of the people I know have. But they're easy to fake and abusive people love to display them. Abusive people love to make great big ostentatious acts of charity and self-sacrifice so they can guilt trip you later. But abusive people betray themselves by not loving, not taking joy, not even trying to be peaceful and so forth. They neglect little works of charity in favor of big shows they can cash in on later. They put on a show, and because of this show they feel they have the right to control you, but they don't bear the fruit of the Holy Spirit.
I have met some Charismatics who seemed Spirit-filled to me. They were some of the most loving people I knew. But that they are Spirit-filled had nothing to do with being Charismatic. I have also met people of more of a traditional bent, and Catholics who didn't really conform to a particular clique– and, yes, people who weren't Catholic as well– who seemed to me to be Spirit-filled, and I loved them.
So, to answer my irate commentator: I have nothing against Spirit-filled Christians.
That is, if he and I are talking about the same Spirit.
Image via Wikimedia Commons
Mary Pezzulo is the author of Meditations on the Way of the Cross. 
Steel Magnificat operates almost entirely on tips. To tip the author, visit our donate page.