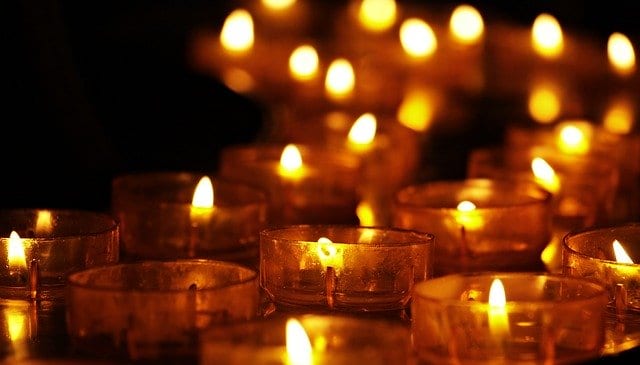 I keep coming back to the Magnificat.
That's the name of my blog, after all: Steel Magnificat. I live in the Steel Valley and my prayer is the Magnificat. I was baptized Mary Elizabeth, so my namesake Gospel story is the Visitation. It was in the readings at Mass recently, and I pondered it again.
I'm pondering it now, on Christmas eve, as the sun goes down.
Mary went out into the hill country to visit her older cousin, Elizabeth.
Why did she go there?
I was told as a child that Mary ran to Elizabeth with no thought of herself, but only to help the older woman because the angel told her Elizabeth was pregnant. Later, I was told by somebody else that she ran to Elizabeth because she was scared due to her own pregnancy and wanted someone to talk to. I always knew Elizabeth was Mary's older cousin. I knew that, according to tradition, Mary grew up living in the temple. It wasn't until recently that I learned the obvious: that means that Elizabeth, the wife of the priest Zechariah, was her stepmother and mentor growing up. Now I think that those reasons were all jumbled together, as she went out to the hill country to visit another woman who got pregnant through a different sort of miracle.
She didn't know what would happen, when she ran to Elizabeth. But she went.
And Elizabeth greeted her: "Who am I, that the Mother of my Lord should come to me!"
What a strange thing to say. Mary's baby hasn't grown to be a man, fought His battle with death and Hell and arisen to mount His throne yet. The baby is a zygote, for all intents and purposes invisible. But Elizabeth knows everything, right in that moment. She knows how the story ends. She knows that little Mary whom she used to take care of in the temple is now the mother of her Lord. She knows her status as the wife of a priest is so much lower than Mary's as the bearer of the Lord Himself.
And then Mary said something even stranger: "My soul proclaims the greatness of the Lord, my spirit rejoices in God my Savior for he has looked with favor on his lowly servant. From this day all generations will call me blessed: the Almighty has done great things for me, and holy is his Name. He has mercy on those who fear him in every generation. He has shown the strength of his arm, he has scattered the proud in their conceit. He has cast down the mighty from their thrones, and has lifted up the lowly. He has filled the hungry with good things, and the rich he has sent away empty. He has come to the help of his servant Israel for he has remembered his promise of mercy, the promise he made to our fathers, to Abraham and his children for ever."
Look at the tenses: she's talking about something God already accomplished. Not "he will cast down the mighty" but "He has cast down the mighty from their thrones, and has lifted up the lowly." Not "someday the hungry will be filled" but  "He has filled the hungry with good things, and the rich he has sent away empty."
When did He do that? Did we all just miss it?
The world is so dark, and good never seems to triumph.
The person who prophesied those words was a pregnant teenager, a member of a despised race in an occupied country, carrying a baby who wasn't her betrothed's. She had no reason for any kind of hope. At the time, Herod was still the king of Judea and something less than a year out from ordering a genocide in Bethlehem. After Herod, Herod's son would rule the people of Judea. His son would order the grisly beheading of the baby who just leaped in Elizabeth's womb; something under three years later, that Herod and Pontius Pilate would bond over having Mary's son lynched. And yet here she is, praising God for the great upheaval that's already been accomplished. She has already seen the downfall of the Empire. It's all over now, and there's nothing any earthly king can do.
At that moment, Mary and Elizabeth see the endgame.
They know the events which have been set in motion and cannot be stopped.
They see everything.
The time is coming when they will not be able to see.   Mary will have to stand there, cast down, hungry and empty, while her son is destroyed and darkness covers the earth. She will have to trust through faith, instead of rejoicing in the good things she can clearly see. But she sees now.
Today they see.
Tomorrow they trust.
The day is coming soon, when it will all be fulfilled.
May we all see.
May we all trust.
May it all be fulfilled for us, according to God's promise.
And may you all have a very merry Christmas, from my family to yours.
Image via Pixabay
Mary Pezzulo is the author of Meditations on the Way of the Cross and Stumbling into Grace: How We Meet God in Tiny Works of Mercy.
Steel Magnificat operates almost entirely on tips. To tip the author, visit our donate page.