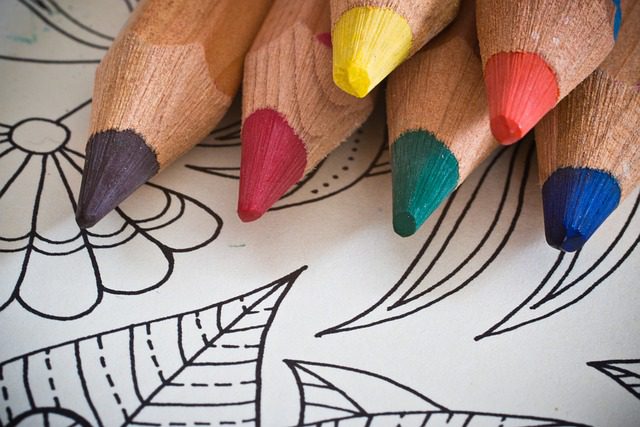 I talked with Holly the Witch.
She saw the woman who used to live in my car. That woman is still in the apartment,  feeling a little better, using drugs less. Even though she's very poor, she somehow got a knitted afghan for Holly, for a Christmas present. Holly said it reminded her of the blanket the hospice gave her when her father was dying.
The recently homeless woman was on her way to earn money, the only way she has to earn money, and Holly gave her a handful of change so she wouldn't have to. The woman didn't turn tricks that day. She went back to her apartment without having to do any sex work. I don't know what she'll do tomorrow. Holly thought of the idea of selling the sketches and coloring pages she colors for a little spending money, if that's all it takes.
She got into this mess in the first place when she couldn't get a ride to the next county to get her divorce papers so she could get an ID. Without an ID, she couldn't get any government benefits. She couldn't even get a hotel room for the night. She ended up trapped in an ugly part of Columbus, and then she was an addict, and then she got on Fentanyl. She is terribly frail and prematurely aged; she's suffered violence like you wouldn't believe. A little thing like the lack of a ride can ruin a life.
She is in housing now, at least temporarily. Her friend had an unfurnished apartment and said she could stay for awhile if she could get a refrigerator or a minifridge. Holly asked around and found her a one. It didn't take long. One used appliance that somebody else didn't want, and she wasn't homeless anymore. We'll see how long we can keep her that way.
Holly gives her little things: a Lunchable, a pair of boots, a handful of change. That's helping.
Little things have made all the difference.
Little things are the only things that have ever made a difference.
People are suffering and dying because of little things. Little things can save them.
Little things are all I believe in anymore.
I don't believe in great big things. I have seen them fall apart one too many times. I've seen how horrific great big institutions that claim to do wondrous things for the Glory of God and the benefit of human beings really are, and I want nothing to do with great big things. I want to do little things that actually help.
When I was a girl I wanted to be a saint. I had it all planned out, a list of great big things to do from the day I turned eighteen until my glorious death at a very young age. I would close my eyes and think about my plans in church and when I was praying before bed. I was going to become a nun, the right kind of nun, the kind who wears a full habit from her veiled head down to her ankles. I would also be a missionary and go off to a jungle or a desert somewhere, to preach the Gospel. I would manifest stigmata and work the most bizarre miracles to testify to the truth of the Gospel. For this, the people I patronized with my preaching would persecute and torture me until I became a martyr. But that wouldn't stop me working miracles. Spectacular preternatural phenomena would occur wherever my corpse was laid. Everyone would be converted by signs and wonders. There would be churches named after me all over the world.
I don't want to be a saint anymore. I don't want to patronize people by pretending I have all the answers and they don't. I don't want miracles to spring out of my corpse. I don't want to have churches named after me. I just want to be someone who lives the life I happen to be living and does good things for the people around me however I can. I want to try to find a way to walk with God. I want to tell the people in the churches that Christ is on the church's doorstep, suffering, and we can help.
The other day, someone on social media shared a photo of a priest saying Mass ad orientam. He shared the photo just to gush about how reverent and beautiful the Mass was. And all I could do was squint to try to see the Host in his hand. It was all lost among the gold and ornate decorations of that great big Tridentine altar. Somebody else told me that this was the moment at Mass where the priest incenses the altar, and the dot in the priest's hand wasn't the Host at all but the end of the censer's chain. And I wondered about the Eucharist, which I'm often afraid to receive these days: a God Who became so tiny you could lose Him among the Church's decorations. A God so small you could mistake a piece of chain for Him, if that was what the priest was holding.
That God is another little thing I believe in, in spite of everything.
I am going back to Columbus the day after Christmas, to spend a few days at the witch's house. I'm going to bring some coloring books for my homeless friend who has taught me so much.
If you'd like to help the homeless and you're in the Columbus area, there's a wonderful charity who is pulling together to bring them Christmas presents, and you can help.
And we'll see where we go from here.
image via Pixabay