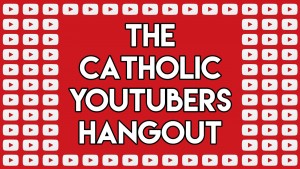 I inhabit a very strange spot on Patheos in that my real home is YouTube. YouTube is where I had a legitimate internet addiction for years. It's where my videos are first posted, and it's where a beautiful new community is being built with the Catholic YouTubers Hangout on July 22.
Catholics on YouTube, like those on many other websites and platforms, are scattered, disjointed, and they don't really know that there are others like them. In a way, this is very similar to how catholics live out in the real world. Christ meant us to be the salt of the earth. To go out and bear fruit. To fertilize the soil and give results 50, 60, 100 fold. But right now, we're spread thin. We aren't sent forth so much as we are pulled away from each other. We are like manure that is spread too-thin across a field: thick enough to illicit a smell, but too scattered to reap any benefits.
My friend, Daniel from That Catholic Couple saw this and decided that he was fed up with it. He called me and pitched an idea to me: a series of online hangouts so that Catholics on YouTube can meet each other, swap notes, give constructive criticism, network, and inspire each other. He made his own video promoting the event and I made mine:
We even started getting buzz from New Catholic Generation. This is especially cool because, while being stylistically VERY different from us, NGC is really our big brother in YouTube online community-building. They started out simply as a list of teenage Catholic vloggers. Even in new communities, there is nothing new under the sun. Community can bind us together and give us structures to lean on, so that when we are sent out, we go from a position of strength and not of weakness. Pray for new communities happening IRL and online.