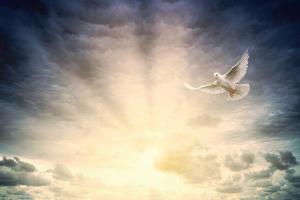 "Do not be anxious about your life, what you shall eat or what you shall drink, nor about your body, what you shall put on. Is not life more than food, and the body more than clothing? Look at the birds of the air: they neither sow nor reap nor gather into barns, and yet your heavenly Father feeds them." – Matthew 6:25-26.
One of life's tragedies is the inverse relationship between trust and maturity. It seems the older we get, the less trusting we are. Of course, as Catholics, trust is an essential ingredient in our faith. How then are mature Catholics to maintain trust in God and their faith?
In this paper, I will discuss the relationship between trust and faith and examine what the Bible teaches on trust. Finally, I will discuss ways in which we can improve our trust in God.
Trust And Faith
Trust and faith are often used synonymously, yet there are slight differences. The Bible defines faith as "the realization of what is hoped for and evidence of things not seen." (Hebrews 11:1). In this context, faith is a belief system. It is having a good reason to consent to a proposition. By comparison, trust is acting or relying upon that faith. For example, one may have faith in the existence of God (have reasons for accepting that He exists). Based upon that faith, one may trust that God will save him from his sins. This trust entails living in a certain way (e.g., being baptized, going to confession, and attending Mass). 
The Bible And Trust
Throughout the Bible, there are depictions of people of faith. Some act upon that faith, often heroically. Yet even those who had great faith often struggled with trusting God. 
Two examples, one in the Old Testament and the other in the New Testament, exemplify this connection between faith and trust. The first example involves Moses, a faithful believer in God who struggles to trust. Two instances are particularly noteworthy. 
The first occurs when Moses seeks to avoid having to act on his faith. God appears to Moses in the form of the burning bush (Exodus 3) and commands him to petition the Pharaoh for the release of the Israelites enslaved in Egypt. At this, Moses balks, claiming he is a poor and ineffective speaker, and we are told that God is angered by Moses' lack of trust (see Exodus 4:13).  
The second instance occurs when Moses fails to trust God's instructions when leading the Israelites through the desert. The result is that God does not permit Moses to enter the Promised Land (see Deuteronomy 32:51–52).
The second example comes from the Gospel of Matthew. It occurs when Jesus and the apostles are traveling by boat. "Suddenly a violent storm came up on the sea, so that the boat was being swamped by waves; but he [Jesus] was asleep. They came and woke him, saying, 'Lord, save us! We are perishing!' He said to them, 'Why are you terrified, O you of little faith?' Then he got up, rebuked the winds and the sea, and there was a great calm." (Matthew 8:24-26)
One way of interpreting this story is to understand it symbolically. Like all of us, the apostles were journeying through life and relying upon themselves. Such self-reliance leaves us vulnerable when confronted with the storms of life. 
Continuing to read the story spiritually, we see that only God can calm the waves of our lives. "He rebuked the winds and the sea, and there was a great calm." And this can only occur when we live in trust of God.
How Catholics Should Trust God
In her famous diary, Saint Faustina writes, "The graces of My mercy [i.e., God] are drawn by means of one vessel only, and that is trust. The more a soul trusts, the more it will receive." (Kowalska, Saint Maria Faustina. Diary of Saint Maria Faustina Kowalska. Marian Press – Association of Marian Helpers). Trust in God is foundational for obtaining Grace. How then can we develop this trust?
Trust in God begins with practicing the virtue of humility. Humility is about the proper order of oneself to God. This means having a modest estimate of one's own worth and a willingness to submit to God. Humility entails recognizing that we are not perfect; we cannot save ourselves. It is a recognition of the dependence upon God. Thus, humility provides the foundation for trust. 
The second step in developing trust in God requires that we "die to ourselves." To die to one's self means subordinating our desires and submitting our will to the will of God. Frequently, sin is a result of substituting our will for God's.
Finally, there is prayer. We can go to God and admit our fears and lack of trust. We can also invoke the help of Mary and the saints by asking them to pray for us and intercede on our behalf. 
Conclusion
Father Jacques Philippe has likened trusting in God to jumping out of an airplane. Until one jumps, one cannot feel that the parachute will support him. One must first jump; it is only later that one feels carried by the parachute. 
This is analogous to the spiritual life. God gives in the "measure that we expect of Him," says Saint John of the Cross. This view is echoed by Saint Francis de Sales, "The measure of Divine Providence acting on us is the degree of confidence that we have in it." Only when we trust in God can we have that trust rewarded. Too frequently, we do not have trust in God because we have not taken that leap of faith necessary to experience it.