Salvation Mountain is a piece of art/mural/man-made mountain in Calipatria, CA. It is magnificent and strange: brightly colored folk art on an epic scale. The main message, proclaimed in human-sized letters, is "God is Love."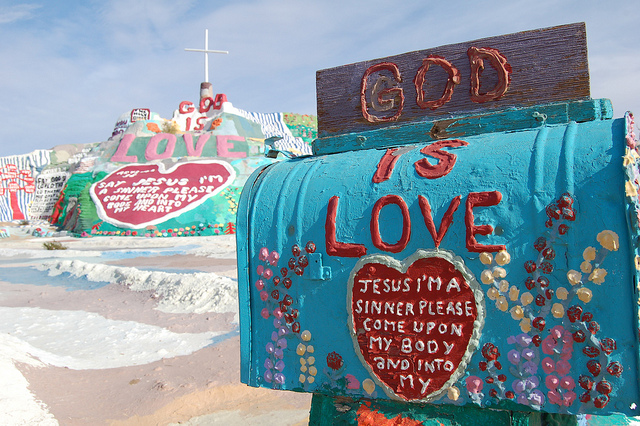 I'm not surprised that Salvation Mountain exists. I'm surprised that I found it where I did: on two lifestyle blogs. A Beautiful Mess, run by Elsie Larson and Emma Chapman, two extremely creative sisters who created the popular photo app, wrote up a road trip to the mountain in 2008, and it just popped up again on Cakies, Rubyellen Bratcher's family-friendly blog (Rubyellen even made a downloadable scavenger hunt for items, images, and verses that appear on the mountain).
Salvation Mountain is the work of Leonard Knight, a Korean War veteran from Vermont. After becoming a Christian at age 35, he wanted to share his "simple" view of Christianity: "accept Jesus into your heart, repent your sins, and be saved." He started making a hot air balloon with the words "God is Love" on it, but the balloon became too large to inflate.
Eventually, Knight decided to build a "monument" out of concrete. It grew to become a small mountain. That mountain, however, collapsed. Undeterred, Knight built a second one using local adobe techniques. That is the current "mountain" that people visit today.
And although Knight built a hogan-like structure (also covered with brightly painted images and words), he continues to live in his car.
Ok, maybe I am surprised that Salvation Mountain exists.