When most people hear "pastor," they think of words like "preacher," "peaceful," or "nice"—or maybe "outdated" or "old-fashioned." But not, usually, "litigious."
Reverend John Helmiere is subverting this image. The founder and leader of the progressive spiritual community Valley and Mountain in the Hillman City neighborhood of Seattle, WA, is suing the city for violating his constitutional rights. Full disclosure: I'm a member of Valley & Mountain, and I've known John since moving into nearby Columbia City last summer.
Three years ago, on Dec. 12, 2011, John attended a protest in support of Seattle port workers. As he was leaving, he was beaten, led to a van, and taken to prison. After filing a complaint against the police department which yielded no results–no investigation, no apology–John filed a lawsuit against Seattle, saying that he was unjustly imprisoned.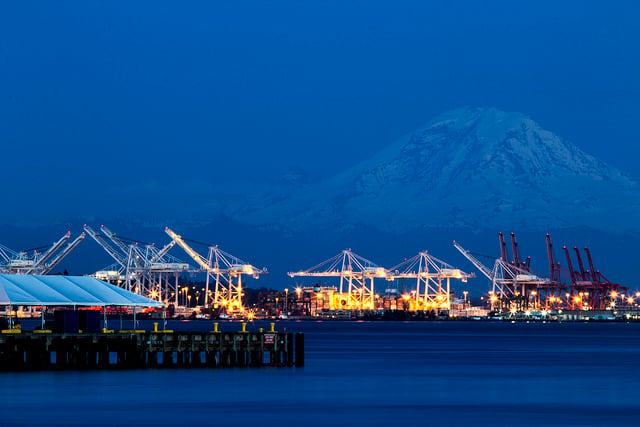 Initially, John was resistant to filing a suit for many reasons. He didn't want to open himself up to attacks on his character, particularly damaging in his work as a community leader. Also, a lawsuit is essentially antithetical to John's mission of building a community. One friend told him "take everything you know about and believe about how to relate to people—a lawsuit is the opposite."
"It lacks a human or relational element," John says. "It's adversarial." And it's deeply opposed to his Christian faith. A lawsuit could be seen as the exact opposite of Jesus' command to turn the other cheek.
But a local mentor, Dawn Mason, put the situation to him this way: the police system has become so corrupt that "it's eating its own."
In other words, police brutality, long held to be a symptom of institutionalized racism, has gone so far that it is now perpetuated against white men—even white men of peace.
Another reason John finally decided to file suit was timing. "I believe in providence," he says. He sees the spirit or spirits as the currents in the ocean, moving things. The sea creatures—we humans—can move with or against the current. The Black Lives Matter movement and protests in Ferguson, New York, and other places that rose in the wake of Michael Brown's shooting inspired him. "I saw that as people refusing to absorb their oppression," John says. As a minister, he felt that absorbing his own oppression would be setting a bad example.
Similar reasoning inspired John to start a blog and share the experience of being beaten back in 2011. The story was picked up by  local news stations immediately after. It begins like this:
On Monday evening, I was brutally beaten by my brothers on the Seattle Police force as I stood before an entrance to Pier 18 of the Seattle Port, wearing my clergy garb and bellowing, "Keep the peace! Keep the peace!"

An officer pulled me down from behind and threw me to the asphalt. Between my cries of pain and shouts of "I'm a man of peace!" he pressed a knee to my spine and immobilized my arms behind my back, crushing me against the ground. With the right side of my face pressed to the street, he repeatedly punched the left side. I was cuffed and pulled off the ground by a different officer who seemed genuinely appalled when he saw my bleeding face and my clerical collar. He asked who I was and why I was here, to which I replied, "I'm a minister of the gospel of Jesus Christ. I believe another world is possible." He led me shaking to a police van where began a 12-hour journey of incarcerated misery.
Despite being unearthly tall, John is not an intimidating man. He's skinny, has longish curly hair, and is often found carrying around chairs to set up for a service or holding his baby daughter Charis. He laughs easily and gets along with seemingly everyone. Valley and Mountain is a unique spiritual community: it meets in a community center that also hosts art shows and monthly cultural celebrations and draws in a diverse crowd.
When he talks about being beaten, John's eyebrows go up and he holds out his hands, as if he is still waiting for an explanation. He speaks about jail with dread. He was arrested again this past November with airport workers Kadra Osman and Socrates Bravo and city Councilwoman Kshama Sawant in a protest against Alaska Airlines for blocking the minimum wage raise to $15. When I talked to him about it afterwards, he said being in jail was terrible: it was isolating to be so far from his family.
As John moves forward with the lawsuit, he is worried about the personal toll it will take. John's case has already gained media attention in Seattle, but he doesn't like talking with the media. He worries that people will think he is money-grubbing. But a civil lawsuit is his only recourse in this case, and its only possible reward is monetary. "I don't want it," he says. Instead, he would like to see specific reforms of the criminal justice system and the system for filing a complaint against it. (If he does win the case, John intends to give the money away via democratic means, so that it doesn't simply benefit his "pet causes.")
As a Christian man of peace, he fears that others will ask why John doesn't simply forgive the police who beat him. "I don't even know who did this," he points out.
In the end, John feels he has no other recourse to promote peace. "I think we're called to forgive people," he says. "But we're called to dismantle the system."
Please do check back in; I'll be following the case as it unfolds.