This is a guest post by Olivia Smith, Associate Minister Intern at Valley and Mountain in Seattle. It originally appeared on her blog, Livid Compassion.
People. Listen. Justice. Community. Conversation. Collaborate. Clean. Support. Engage. Breathe. Pray. Liberation. Readings. Theology. Share. Resources.
I have never worked at place like this before, yet it makes so much sense. It may be a something like a socialist dream. Hahaha. It is true community, real community, and it makes so much sense. But how did they arrive here? A group of people had to get together and realize the only limits for fighting for social justice are the limits we place on ourselves. The limits that disallow us to work together, to share and to organize.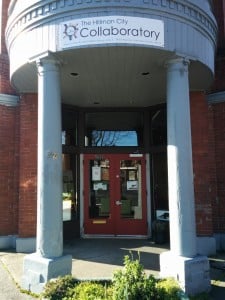 As a Minister Intern at Valley and Mountain Fellowship, I am also a part of a greater network called the Hillman City Collaboratory. This network does more than brand the building. Throughout the week dozens of non-profits use this space.Those in the community who have small businesses who are doing work for social change can share our space to use as their office or to host events. Three days a week the Seattle Catholic Worker provides (GOOD) food, toiletries, and safe space for those in need. In the early mornings, the famous Chef T hosts free cooking classes for kids of all ages. I could go on and on. The community has co-created this space–it's one of many seeds growing the community together, to share joys, offer services and collectively tackle internal and external issues.
In this space, there is an aroma, a presence, a way of being that is about working toward something greater than ourselves–everyone may not name it God. But I know it's God, and yes, God resides in and with this space that shares itself with the "secular" world.
I spend a lot of my time thinking about community engagement and ways to engage with what is already flourishing around us. The Hillman City Collab is not attempting to be the NEW BEST THING, but to complement the GREAT THINGS THAT ARE ALREADY HAPPENING.
At our Sunday free community cookout, a family joins us for the first time (they saw that someone was brining roasted goat meat on the Facebook page). He says to our pastor, "Wow, Hillman City is the NOW place to be–it is upcoming, flourishing, lots of NEW things happening…" A sentiment shared by many in the local area that is suggesting: "Wow, there was nothing here before, but look, we have discovered, uncovered and improved a hidden treasure…" (Sounds like a colonization story I have heard somewhere before…..hhhmmmm.) With humility, forgiveness, understanding, grace, and kindness, my pastor said, "There are a lot of great things happening, but there were already a lot of great things happening in this community. We are aware and worried about the displacement in the area. We are here to contribute to what has BEEN happening…" (I am glad my pastor said it, because I may have gone on a rant about gentrification, displacement, white supremacy, poverty wages, property taxes, blacks moving south, Amazon's take-over, etc…) And for the man, an a-ha moment: he said, "Yes, I guess we have been a part of that displacement…"