Let's be clear about this thing.
Given the last couple of days, and the out of control Twitter rage from our Tweeter-in-Chief, I'm not totally convinced that there's a whole lot that special counsel Robert Mueller needs to speak with President Trump about, as it pertains to the ongoing Russia probe. He and his investigators can glean more from simply logging on to Twitter and scanning the fruits of the president's "executive time," each morning.
I'm not convinced that this isn't the strategy going forward, especially after Trump called on Attorney General Jeff Sessions to end the Russia probe on Wednesday.
The White House later blew off questions from the press by calling the tweet Trump's "opinion," and not an official statement.
This absolutely goes against the previous narrative of social media being Trump's way of going around the "fake news" media and going straight to the people, and that his tweets were official statements.
I don't think, "That's just his opinion, man" is a valid defense in legal proceedings, but, hey, maybe.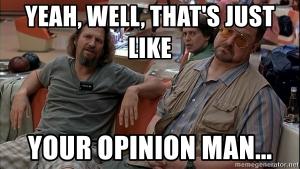 Still, after some back and forth between Mueller's team and the president's legal team, special counsel has agreed to make some allowances.
The Washington Post reported that Mueller is considering reducing the numbers of questions asked of Trump about possible obstruction of justice during an interview. He would instead allow Trump to submit some of those responses in writing.

Mueller still wants to question Trump on possible obstruction of justice and whether there was collusion between the Trump campaign and Russia, according to The New York Times.
Given Trump's penchant for blabbing on social media, Mueller's team likely just wants to tie up the loose ends to the information he's already unwittingly provided them.
What we can also assume is that President Trump has reason to believe he's practically in the clear. According to some reports, he's been pushing to sit down with Mueller, against the wishes of his legal team.
This is a prime example of why so many attorney's refused to work with Trump. He's just an awful, unruly client.
Mueller has been pushing for a sit-down interview with Trump for months: He reportedly told Trump's attorneys that he would subpoena the president to testify before a grand jury if Trump didn't agree to be questioned.
Trump attorney, Rudy Giuliani, has insisted that as president, Trump was not required to comply with any subpoena.
That part is a bit murky, with some saying he would absolutely be required to comply with a subpoena.
Giuliani, who is leading talks with Mueller's team, has also claimed that an interview with the special counsel would be an attempt to trick Trump into committing perjury.
You know who has a fear of perjury traps?
People who have a habit of lying, in the first place.
With that in mind, it's no wonder tensions are running high with President Trump's legal team. From wives to creditors to Trump University students, the man's entire existence has been built on the Art of the Lie.
It works for reality TV and ratings. It won't work with a grand jury.