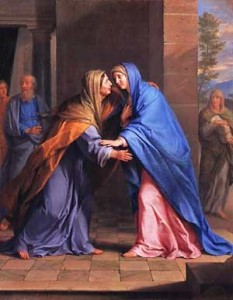 In my college years, a popular book circulating among female students was Helen Andelin's Fascinating Womanhood, essentially a guide to help one catch a husband by acting out a stereotypically "feminine" role. This meant never expressing opinions, never arguing with a man, not pursuing a career, cultivating a sweetly girlish attitude, wearing frilly things, and even restricting one's reading to "feminine" magazines. Languor, childlikeness, and youthfulness were all encouraged. At the time I couldn't pinpoint what precisely revolted me about all this, but I did recognize the fundamental message that if I ever wanted to find love, I would have to pretend to be every single thing I am not.
This was my first step on a path to feminism: realizing that there was an ongoing narrative about the kind of thing (yes, thing) I was supposed to be, and that it was harmful and depersonalizing. I was a student of Christian personalism, and knew that a person belongs to herself, and is incommunicably unique, and can't be treated as a means to an end. This was the Christian view of the person.
But on the other hand I was being told that the Christian view on women was that we were supposed to belong to men, act as a specimen of the Feminine, and live as though we were a means to the end of male happiness. Because of how often this image of the feminine mystique got twisted in with the Christian message (holy cards depicting Mary or the female saints as winsomely girlish and blond, emphases on female virtue having to do only modesty or the use of our genitals, the suggestion that any woman claiming leadership roles in the Christian community was arrogant and ungodly) – my Christianity sat uneasily on me. I'm still not entirely sure why I didn't leave the church, other than that I am stubborn, and felt that by remaining Catholic I was annoying the kind of people who longed to give me the boot.
But my female identity still didn't seem to click with the kind of images of feminine submission I was seeing. I don't mind being submissive before God, but why on earth should I be submissive before men? How is that a virtue? Or, if it is a virtue, shouldn't it be connected to obedience to legitimate authority, and should legitimate authority really be connected only with the phallus?
I don't buy that Miltonian idea that man was "made for God" while woman was "made for God in man." And yet that seemed to be the line I was hearing. As a woman, if I wanted to get to God, I had to get to him through men. Naturally, this made me less passionate about the whole religion thing.
The obvious reality I was missing: Mary the Mother of God. And I missed her because she was continually being misrepresented to me according to the Feminine Mystique, and not according to Christian Personalism.
Traits of Mary that were emphasized: subservience, meekness, quietness, obedience. The emphasis was invariably on her virginity at the sine qua non of perfect womanhood, with the added bonus that (unlike the rest of us) she could pull this off while also being a mother (the only other praiseworthy option). Note that both of these female ideals put the emphasis on use or nonuse of the reproductive organs, placing the locus of a woman's virtue on how we manage or mismanage our genitals, and how this management appears from the perspective of the male gaze.
Within a cultural narrative that identifies female virginity largely as a commodity for males, it's understandable that I missed the point.
Oddly, I didn't understand how wrong I had been until I read a not particularly scintillating piece on the connection between rape and religion. The gods, it stated, are always raping mortal women; it's how they interact with us. As a devotee of Ovid and amateur mythographer, I agree: the gods are total bastards, and it especially sucks when they punish you for saying "no" by turning you into a tree or something. If this is the way the divine interacts with human women, no wonder some might decide to go agnostic.
The article included Mary the mother of Jesus as one of these victims. And my immediate thought was: no, totally not. Because, first of all, unlike the case of Danae, Leda, and the other hapless victims of godly lust, Mary was not taken by force. She was approached with courtesy, and, if I am reading correctly, the outcome depended upon her agreement. And, secondly, she was left with her virginity intact.
In the past I had secretly viewed the adulation of Mary as Virgin simply as another instance of the male fetishization of virginity (which is, obviously, very much a thing). I resented the implication that female purity and virtue were connected with a lack of experience, and that this virginity is seen as beautiful and charming only while one is young: in the old it is regarded, as Simone de Beauvois states, with "sexual repugnance." Virginity in the pantheon of archetypes is desirable in the young, as a thing FOR men – and as such, in the old, it is derided. How often do we see holy cards depicting Mary as an old woman? Or even a middle-aged Jewish matriarch?
But once we take the idea of virginity out of this realm of Woman as Object – restore an ideal of Christian Personalism, and ditch the Feminine Mystique – we see it differently. We understand the virginity of Mary as an aspect of her self-possession, as something that she owned, and which God would not take from her by force (Leda and the rest didn't remain virgins). To remain a virgin, for Mary and for so many of the fiercely determined saints of our tradition (Agnes, Cecelia, Catherine of Siena, Teresa of Avila, Rose of Lima) was not about being a perpetually frozen inexperienced object, but about keeping oneself from being made an object for men, about entering into relation with the divine without submission male desire as an intermediary.
The "virgin" and "whore" archetypes, set in opposition (or sometimes, actually, combined in a strange potpourri for male dominance) reduce females to sexual relation to a man. Once both virginity and sexual experience are withdrawn from this artificial structure, we can see both of them better in terms of female self-ownership, the female as a subject with aspirations, desires, and a divine destiny. Mary of Nazareth as perpetual virgin, then, seemed to me a woman of remarkable self-possession, courage, and decisiveness. I began to look at her more as she acted in the story of the gospels, less as she was professionally mansplained to me by male theologians. I dared to think, and to see Mary as a woman who thought, who contemplated, who pondered, who analyzed – who had an interiority, secret musings – "but Mary kept all these words, pondering them in her heart" (Luke 2:19).
I had the opportunity to read Tina Beattie's wonderful book, Rediscovering Mary, in which she writes: "Mary suffered in solidarity with all women who have suffered indignity and powerlessness" (84). The idea of Mary in solidarity with us, as our advocate and ally, was surprisingly new, since the subtle message in so much Marian rhetoric I'd heard was intended to shame the rest of us women, vile impure beings that we are.
I noticed recently that even in many groundbreaking works of feminist fiction, the ultimate conflict often ends up being a romantic one. Stories of female empowerment often involve the female empowerment to choose the man she wants, to stick it to the puritans and find a sensual paradise in the arms of a man (as Sandra Gilbert and Susan Gubar famously mis-read Charlotte Bronte's Jane Eyre as doing).
No offense to sensual paradise, but I think women are capable of striving for greater freedom and greater self-realization than this, that our ultimate goal and fulfilment might actually be something more intellectually and spiritually provocative than mere orgasm. And ironically, in spite of everything the idolators of the Feminine Mystique would have me pretend to be, and in spite of the distortions wrought by patriarchal forces in our religious tradition, I have found this freedom and self-realization in my faith.
citation: Tina Beattie. Rediscovering Mary. Great Britain: Burns and Oates, 1995
image credit: https://commons.wikimedia.org/wiki/File:Champaigne_visitation.jpg. Philippe de Champaigne, La Visitation. Public domain in the US (PD- US)