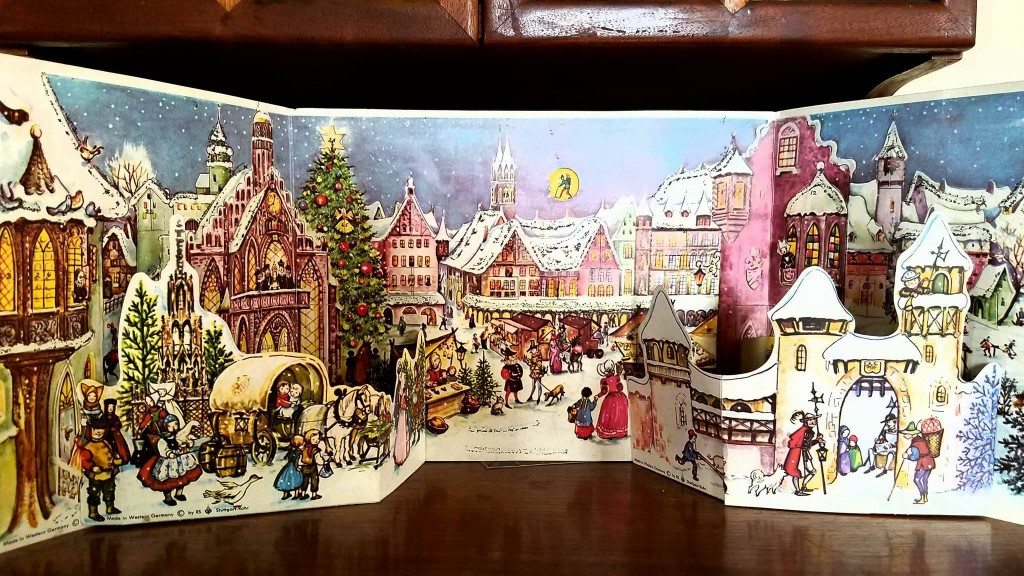 Advent has always been my very favorite time in the liturgical year, because it gives a spiritual place to my fundamental restlessness, my constant gazing out at horizons. Even before we were Catholic, as a child I relished the tingle of anticipation, the flickering lights as the nights grew longer, lights perhaps glittering in some frozen pool, a reflection from some hidden world more real than the visible.
My grandmother had antique advent calendars from Germany, which I still have to this day, and even though by now I know exactly what's hidden in each picture, I still have a sense of excitement as I open the doors I've been opening for forty years.
Because the thing about opening a door is, even if you see what's right in front of you, that's just a single picture, and you never know what else is connected with it. Year after year, I have seen the violinist practicing in his tower, the woman combing her hair before the mirror, the old couple sitting down with a loaf of bread between them. But I have never seen what is in the rest of their rooms, what doors open behind them, where they go when they're not sitting waiting, every advent, for us to open their doors and greet them. I have not learned yet whether the violinist is practicing for a concert, or perhaps to serenade the woman combing her hair, and whether the old couple can hear the music as share their simple meal. Or perhaps the violinist has no concert; no one wants to hear his music; he plays only for himself. Maybe his music will be forgotten for a hundred years.
Put a window or a doorframe around something and it becomes magical. C.S. Lewis knew this, in his stories of doorways and pools that open into whole other worlds. When you read the Narnia stories at a very young age, you're still wise enough to go looking for the door in the wall that will lead Out. Or lead In. The desire to get Out: is it motivated by a sense of discontent with the bourgeois sameness of the world in which we're stranded, or is it really a desire to get In to the world we know overlaps with ours, because how else could everything be so enchanting, even while it's being bland and stupid?
The spirit of discontent that drives us to be distracted at work, unhappy with ugly things, bored with stupid conversation, perhaps wouldn't be possible at all if we weren't already aware of a something-more, entangled with the never-enough. It's interesting that when you pursue social justice, it's a guarantee that you'll be accused, maybe even daily, of being a whiner – being discontented. Feminists are accused of being angry. We're all supposed to settle down, smile sweetly, embrace the status quo.
But the saints didn't do this. They may have endured sufferings and injustices placed upon them, uniting their suffering with that of Christ, but they did not just it there and accept what society told them was normal and natural. Whether praying in a hermitage, founding a new order, feeding the hungry, sailing to new worlds, refusing arranged marriages, cutting off their hair, leaping into thorn bushes – they set the world on fire. Of course, just being discontented isn't enough. Being angry without love leads nowhere.Yes, there's a long bridge to traverse, between discontentedly posting Facebook status updates about racial injustice or war, and actually setting out to heal the wounds inflicted on humanity by humanity.
But it's the right bridge to be on.
This is the season of waiting, of hoping for something more, of looking out at the horizon to see the mountains and hills laid low. It is a season rich in eros, because it reminds us to lie awake and wait for that which we desire. It is the season which acknowledges our fundamental inability to rest perfectly easily in the present moment, our dissatisfaction with easy answers and theological definitions that try to package the infinite in marketable phrases. It is a time that reminds us to let our restlessness speak to us of what our hearts know: that we are made for the infinite – that our cracks, to quote the late great Leonard Cohen, are where the light gets in.