In a new collection of interrelated personal essays entitled Any Day A Beautiful Change, Katherine Willis Pershey chronicles the story of her life as a young pastor, mother, and wife.  At turns hilarious and harrowing, deeply moving and gently instructive, Pershey's reflections will strike a chord with anyone who has ever rocked a newborn, loved an alcoholic, prayed for the redemption of a troubled relationship, or groped in the dark for the living God.
Here, Pershey talks about the inspiration for her memoir, being a "pastor mama," and what she hopes her readers take away from her personal story.
What inspired the title of your book?
I started a blog on a whim in 2004. I pilfered a line for my blog title (giving credit, of course) from a song by The Innocence Mission, one of my favorite bands. The song begins, "Oh I'm going to find some peace of mind. At any time I could change, any day, a beautiful change." There's a lot of hope in that lyric – the hope that things will be better. That I will be better. The hope of repentance and transformation, I think. I've kept the blog with the title Any Day a Beautiful Change for quite some time now, and along the way the line became a sort of mantra for my life. It's not just that I seek those beautiful changes – though I am kind of a strive-to-be-better type of person. I also try to pay attention and name the beautiful changes when they happen. Aside from borrowing a few lines or stories here and there, the book is not derived from the blog. But the book is about beautiful changes: namely, the experience of becoming a mother, recovering from postpartum anxiety, and healing my relationship with my husband. I can't overstate how badly I wanted the book to be called Any Day a Beautiful Change. It just felt absolutely crucial; calling it something else would be like renaming my daughters on their second birthdays. I am deeply grateful that The Innocence Mission granted us permission to use the line – the folks at Chalice Press said they'd never seen such a gracious response.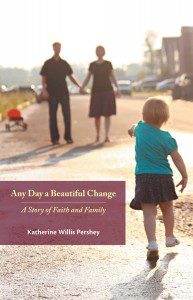 Forgive me for pointing it out, but you were barely 30 when you began writing this memoir. Did you struggle with worries that readers might not be interested in the wisdom of youth?
Yes. I nearly had a confidence crisis when I read a piece of advice in O Magazine: "Ignore memoirs by people who have barely cracked their 30s." I read the article two weeks before I turned thirty, on the first day of a writing retreat. I was there to work on my memoir. Katelyn Beaty recently introduced her review of Lauren Winner's Still in Christianity Today with a nod to the issue of youthful memoirists. "Yes, our self-absorbed society is glutted with [memoirs]; yes, many 30-somethings lack the wisdom and experience to say much worth sharing. But the spiritual autobiography—a narrative account of God's gracious movement in the believer's life—is central to the church canon." I do have an inner critic who occasionally whispers: you have nothing to say. But then I remember that God moved graciously in my life. I have something to say.
Did you write Any Day a Beautiful Change with a specific audience in mind?
Perhaps it's too ambitious to say that I want to write for anyone and everyone, but I do. I think with memoir, there's always an obvious first audience: people who share the same demographic as the author. But there's also something magical about entering the reality of someone wholly unlike you. I hope that all sorts of people will find something worthwhile in the book.
Raymond Carver once said "what good is insight? It only makes things worse." How do you and your husband come to terms with the possibility of dredging up challenges from the not-so-distant past?
All along we've been pretty clear that this is not so much a book with a happy ending as a book about the happiness of not ending. We have a stronger relationship than ever, but we're still two people with strong personalities; we definitely have our moments. But I think we finally learned how to move from mere insight to actual wisdom about how to be in relationship, and wisdom definitely makes things better. Writing this book – particularly with its publication coming so soon before our tenth anniversary – feels like a renewal of vows.
Readers of memoir must accept on faith that authors of memoir are telling their stories to the best of their ability, and as true to the events as possible. Before that, though, the writer must agree to be honest with herself. Was this difficult for you in the early stages of writing?
I don't think so. I am fairly used to practicing honesty in the pulpit in my work as a preacher, where there is also a high value placed on speaking the truth. That's not to say I don't have anxiety about how the book will be received; writers of any genre hope readers appreciate their work, but memoir is so intensely personal an author could easily believe that when her book is rejected, she herself is, in effect, rejected. That's a dangerous path that I hope not to take.
Any Day a Beautiful Change is, at its core, a book of stories that shed light on your experiences; it's a form that comes very naturally to you as a pastor. Do you work to incorporate storytelling into your parenting practices?
Years ago I read a magazine article about the development of memory. The author talked about the importance of recalling events within families. That practice not only helps children remember specific events, but it also general develops one's capacity to remember. We are intentional about sharing high and low points of the day during dinnertime, which in turn becomes an invitation to tell our stories. We also read tons of books. As much as I love picture books, it's really fun to begin reading chapter books to Juliette. We're reading Matilda by Roald Dahl right now. I can't imagine parenting without storytelling.
How similar is the experience of a pastor mama to other kinds of professional women? Is there something unique to the experience that sets it apart?
I've only ever been a pastor, save for a few temporary or part time jobs on the pathway to ministry. I don't know what it's like to have a more traditional 9-5 job. Ministry is wonderfully flexible, and while some ministers prefer to establish stricter boundaries between their church and family life, I have always taken a more integrated approach. It was tricky when my husband worked as the church secretary. But I love that Ben is a Sunday School teacher, and that Juliette attends preschool at the church, and that Genevieve is so happy in the nursery. I do have a particular role in the church community, but it is still very much our whole family's spiritual home.
The book is a memoir about motherhood, marriage, and ministry. Family life is so personal, and ministers have a responsibility to maintain confidentiality. How did you know where to draw the line – what you could and couldn't write about?
I've found it very helpful to think of memoir as a form of testimony – of telling the truth as you have lived it, not for your own sake, but for the glory of God and the edification of the people of God. There are parts of the book in which neither I nor my husband come off too well, but Ben encouraged me to write about us honestly. I do wonder how my daughters will feel when they are of age to read it; they will no doubt be mortified, but hopefully in a normal, everything-our-mother-does-is-embarrassing sort of way. I tended the boundaries most assiduously around my work as a minister, not wanting to breach my former or current parishioners' trust. I think I was able to depict my experience of ministry without trespassing against the responsibility to maintain confidentiality, which is truly sacrosanct. Whenever I did write about church members, I sent them the work and asked for their blessing. Even though there are places where I might have divulged more, personally and professionally, I don't regret having practiced discretion. If I've learned anything in the process of writing a book, I've learned that writing is as much about what you don't include as what you do include.
How do you feel about your own boundaries as people read about events and emotions in your life that may have been far more private as they occurred?
I believe the word "ack" sums up my feelings impeccably! I feel incredibly vulnerable. I'm currently training for a triathlon, primarily to give myself something else to think about other than that people are actually reading my book!
What is your hope when readers finish the book?
Any Day a Beautiful Change is not a how-to book, parenting manual, or marriage guide. That said, I would love for readers to learn something about faith and family through reading these essays – that the connections I draw between theology and everyday life sharpen readers' ability to draw their own connections.
And, more than anything, I want readers to be inspired to hope for and seek beautiful changes in their own lives… especially, for married readers, their own marriages. While I have absolutely no doubt that some relationships are truly irreconcilable, the fact of the matter is this: I believed my own marriage to be hopeless at one point. And then, by the grace of God and with a lot of help, we stopped fighting one another long enough to fight for our relationship. We worked so hard. And slowly, painfully, miraculously, we started to change. I love Ben every bit as fiercely as I love my dear daughters. It horrifies me to think for even a moment that we might have missed out on the unexpected and unquenchable joy of a family redeemed. If my book can provide even a drop of hope that even seemingly hopeless situations can be transformed, it will be worth the risk of sharing our story.
Read more about this book, including an excerpt, at the Patheos Book Club here.