Discipleship isn't a Program, It's a Relationship…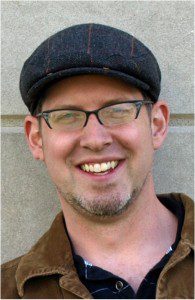 This month at the Patheos Book Club, we're talking about the new book Dallas and the Spitfire: An Old Car, an Ex-Con, and an Unlikely Friendship, by Ted Kluck and Dallas Jahncke. Here, Kluck talks about the book, the friendship and the challenges of discipleship.
In Dallas and the Spitfire, you say that discipleship felt weird to you in the past. How so?
Because typically it either involved guys at our church who wouldn't ask a girl to coffee without running it by fifteen mentors first, or it involved awkwardly sitting in front of a latte at a coffee shop, asking questions like "So…what have you been reading lately?" or "How's your walk with the Lord?" Neither are really my style.
How did you meet Dallas?
I noticed this huge, tattooed, goateed kid at my church and eventually one of our pastors asked me to meet with him. I think he thought since I had written a book about Mike Tyson that I would be good with "rough people." Dallas and I started hanging out; he told me about his life, and then we decided to fix up an old car together on the logic that we both needed a reason (beyond latte-sipping) to hang out.
What was interesting about Dallas?
A lot, actually. Namely, how different he was from other young guys in our church. He wasn't your typical homeschooled kid from Grand Rapids who visits the Gospel Coalition website every day and has read every book in the John Piper canon (no offense to those guys). He had a really checkered past, involving drugs (dealing and using) and prison. None of his parents are living. I guess I felt like he needed us. Us being me and my family. And I needed him to help me with the car. Dallas is talented in many ways (a great thinker and a great student) but he's an absolute animal/ savant with cars.
Was it weird, the hanging out?
At first it was a little weird, but then we just became friends. We both like boxing. We both like old cars. To me, discipleship has always been about cultivating a genuine friendship with someone whom I might actually like in real life and then letting it grow from there.
Why did you pick an old British convertible to restore?
My previous experience with cars was limited to taking our station wagon to the oil change place and sort of freaking out and feeling like a novice when they would ask me if I wanted to change the air filter. I knew nothing about cars. I just knew that I loved old convertibles. I thought the European ones, in particular, had a real vintage look about them. I wanted something that Mick Jagger might have stepped out of at a movie premiere or a record launch in the '70s.
Did you learn anything about cars?
Absolutely. We rebuilt carburetors. Fixed a clutch. Took apart brakes. Filled reservoirs. Fixed leaks. Dismantled gearshifts. Looked at schematics. I know what things are now when I look at a car. I have taken things apart and put them back together by myself. At the risk of sounding melodramatic, the whole thing was a thrill for me.
Did you learn anything about yourself?
I learned that I'm a selfish, sinful man with a heart that needs a redeemer. I learned that I can do nothing good, apart from Christ. I learned that even though I was technically mentoring Dallas, I needed a lot of work myself. We both got to experience at different times what total reliance on the Lord looks and feels like.
What's unique about your book Dallas and the Spitfire?
It's a Christian book that you don't have to be embarrassed to read, as a guy. That was important to both of us. It's not a weighty theological tome, but it's a book that doesn't talk down to anyone, or insult anyone's intelligence. It's gritty and real and entertaining just like life. It's full of near-misses and almost-failures, and little victories.
You share several instances in the book when you are afraid that Dallas will be pulled into his old lifestyle. But you write that "I will have to trust God to finish the good work He started in Dallas." In this "discipleship" can you describe the tension between knowing what your role is and what you have to just surrender to God?
I think the tension lies in feeling like you have to do everything, all the time—that you always have to have the right answer, take every phone call, and be available to hang out all the time. I had to realize that it wasn't me keeping Dallas sober. I had to take comfort in the knowledge that we serve a sovereign, powerful Lord and Savior who sent his Son to cover Dallas's sins and my own on the cross.
How is Dallas doing today?
He's doing great. He graduated from a one-year Bible college, is pursuing his bachelors degree, and is working full-time at the Lansing City Rescue Mission. He's a member at University Reformed Church in East Lansing, and he has stayed clean and sober.
Visit the Patheos Book Club to read an excerpt from Dallas and the Spitfire.