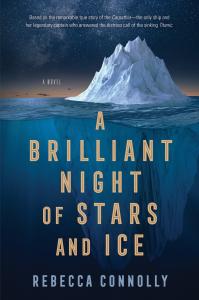 Everyone knows the tragic story of the Titanic; it's the subject of numerous documentaries and a 1997 feature film starring Leonard di Caprio and Kate Winslet. The Titanic was a beautiful ship that advertisers said was unsinkable. However, the tragic truth was quite the opposite. Throughout the trip, crew members received iceberg warnings. On the night of April 14, 1912, crew members saw an iceberg and tried to warn others, but it was too late. The ship collided with the ship, causing extensive damage. From that point on, the ship started sinking, and crew members tried to save as many lives as possible, getting women and children onto lifeboats.
When the ship started sinking, the Titanic's captain sent distress signals to other vessels, hoping that one would respond and save the innocent lives on board. One ship answered the Titanic's desperate call for help. A Brilliant Night of Stars and Ice tells the tale of Captain Arthur Rostron, the captain of the Carpathia, the ship who answered the call. Shortly after midnight, Captain Rostron woke up to distress signals from the Titanic. He barely has any information, but Rostron jumps into action to help the Titanic's passengers. Unfortunately, his ship is about four hours away, and at this point, he has more questions than answers, like will there be any survivors by the time they get there? What if the Carpathia hits an iceberg? As more and more people struggle to stay afloat, Captain Rostron races to save lives.
A Brilliant Night of Stars and Ice also tells the story of Kate Connolly, a third passenger on the Titanic. Unfortunately, like many other third passengers, she's one of the last to learn what's going on and is left to fend for herself. Thankful, Kate makes her way to a lifeboat but questions if rescue is even possible as she watches the ship sink and hears the sobering cries of thousands in the water, desperate to be rescued. This novel is a captivating, thrilling recount of two people who witnessed one of the most tragic events in American history. It alternates between Captain Rostron and Kate; Rostron's heroic and empathetic leadership, systematic preparations for rescue, and grit and determination to save lives and care for survivors set the course for this awe-inspiring tale.
Imagine being Captain Rostron; you're sound asleep in your bed when you wake up in the middle of the night to distress signals from another ship. He could've easily ignored the calls and gone back to bed. However, he chose to jump into action, even though his ship was four hours away. Also, try to put yourself in Kate Connally's shoes; as a third passenger on the Titanic, she's left to scramble and save herself from a sinking ship.
If you're a history buff who loves action and adventure, this novel is the perfect fit for you. Heather B. Moore, The Paper Daughters of Chinatown's author, says, "Captain Rostron's decisive and heroic actions as he prepared his crew for what they were about to encounter was inspirational and heartrending. I've found a new hero in a man who never hesitated in doing the right thing." The novel is available for purchase at Barnes & Noble, Amazon, and Walmart.