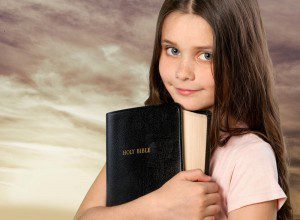 By Jake Raabe
Children's Bibles are a difficult sub-genre for publishers to work with. The nature of religious beliefs- or any beliefs about the way the world works, for that matter- are such that parents will invariably impart them on their children from a young age, whether through example or direct conversation about them. And yet, as with many religious texts, the Bible was not written with children in mind. Publishers of religious material for children, particularly Bibles, must carefully balance faithfulness to the text with sensitivity to the age, reading level, and emotional maturity of the audience.
The Bible is My Best Friend: Bible Storybook is an attempt to distill the message of the Bible into a format that is accessible to and appropriate for children. Rather than being a complete Bible, this book is a collection of Bible stories accompanied by illustrations. These illustration are a high point of the book; they are well-drawn, colorful, and engaging, offering visual support to the stories they accompany. The sampling of stories is nice as well, hitting the major stories as well as lesser-read ones. The ratio of Old and New Testament stories is roughly equivalent to that Scripture itself.
One question I had reading through this book was about the target audience. For a children's book, The Bible is my Best Friend: Bible Storybook is surprisingly text-heavy, with most pages being completely filled with writing. If this book is intended for parents to read aloud to children, this seems appropriate. If the intended readers are children themselves, it likely misses the mark, with its full pages of text and difficult words. Children old enough to read it will probably find the drawings "babyish," while children young enough to benefit from the artwork will struggle to actually read it. Thus, this book is best suited for parents reading to younger children.
A few other aspects of this book parents should be aware of: first, the text can at times be difficult to read against some of the darker drawings it overlays. Additionally, all persons pictured within the book are clearly Caucasian. Individual parents can decide if this is something they want to factor into their purchasing, but I was disappointed by this.
Nevertheless, The Bible is my Best Friend: Bible Storybook does a solid job of communicating the basic narrative of the Christian faith to young children. This book does particularly well in its treatment of the Gospel, which, the author states in the forward, "traces a scarlet thread throughout the Bible." For parents seeking to introduce their children to this wonderful "scarlet thread," this book is by no means a bad choice.
This review was co-written with my wife Rebekah, a professional educator.