By Laura Paskell-Brown
 "A dream you dream alone is only a dream. A dream you dream together is reality."

–John Lennon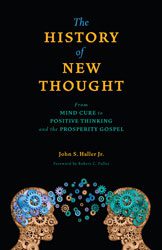 As someone who grew up in Europe, John Haller's text, A History of New Thought, is a fascinating insight not only into the history of New Thought itself, but also the ways in which it has emerged from and in turn influenced the American psyche.
Five years ago I was living in London and, like most people I knew, was a firm atheist. Looking across the pond I saw religious fanaticism, and made no distinction between the Southern pro-lifer brigade and what I now realise is the New Thought (NT) community. It all looked crazy to me. Through snippets of Oprah and snarky articles in The Guardian newspaper, I concluded that anyone who thought the world could be controlled by the mind was a nutcase, and anyone who used it to justify the status quo was a mean, dangerous nutcase.
Yet five years of living Stateside, one nervous breakdown and a spiritual awakening later, I have embraced many of the ideas of New Thought. My socialist background had already taught me that "men make their own history" (that's Karl Marx BTW) but spirituality has given me more. Devouring authors such as Marianne Williamson, Neale Donald Walsch and Eckhart Tolle, I felt empowered by the idea that I could make my own history simply by changing my thoughts, and the actions they led to. I didn't have to wait for the next general strike or social revolution to experience change. I could utilise the power of now.
Building a bridge between the socialist politics I grew up with and the spirituality that saved my life has been difficult but not impossible. Though Haller's narrative emphasises the side of the movement that focuses on individual change, there are those that take social change seriously. Walsch and Williamson both explicitly discuss the potential of prayer, meditation, silence and Divine dialogue to change societies as well as individuals. The homepage of The Association for Global New Thought states: "Planetary healing through self-realization and spiritually-motivated activism is the new promise of these teachings ". Even parts of the Occupy Wall Street movement felt distinctly New Thought in their approach.
Haller does an incredibly thorough job examining the emergence of the NT movement, which posited the power of the mind as a tool for physical and financial healing, but he does the contemporary movement a disservice by focusing on precisely the elements that make Europeans shudder, namely its emphasis on individuals, the financial opportunism of books like The Secret, and those who would use it to blame marginalised individuals for their own marginalisation.
Whatever my friends back home might think, turning to the ideas of NT does not have to mean a retreat from the world. Through prayer, meditation, and visualisation, we can become aware of Spirit, but this is only a first step. To be satisfied only with personal health and prosperity is to miss the real potential of the teachings of Jesus, the Buddha, and all metaphysical teachings that NT draws upon.
There are of course differing opinions on this topic, but those who excite me within the NT movement regard each individual's awakening as part of a global shift in consciousness. In a recent article for Light of Consciousness magazine, Barbara Marx Hubbard does just that. Acknowledging the global crisis we face, a crisis many NT proponents ignore, she speaks of the wave of individuals who are waking up to their ability to "co-create a more positive future". As each individual awakens to the role they play in shaping the world they experience, so we move closer to the tipping point, in which the principles of unity, abundance and love displace those of separation, scarcity and hatred. Capitalism will crumble because we choose love instead of fear.
This "quantum leap" at the societal level is what drives me to follow a spiritual path. Sure, I like the fact that meditation has made me calmer, that my bank balance is a lot healthier and my career and personal life feel more rewarding. But if we take seriously New Thought's ideals of the unity of life, and the power of love, we can decide to dream beyond this. As the protest movements of the 2000s declared: "A new world is possible".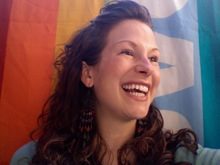 Laura Paskell-Brown is a board member of Women of Spirit and Faith and lives in Brooklyn New York, where she is pursuing a PhD in psychology.