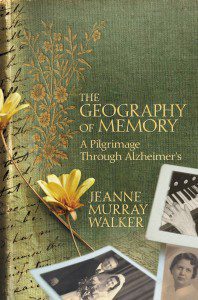 This month at the Patheos Book Club, we're featuring the new book by award-winning poet Jeanne Murray Walker, The Geography of Memory: A Pilgrimage Through Alzheimer's (Center Street/Hachette Book Group). Described as "one of the most elegant, tender, and intelligent memoirs of Alzheimer's I have read," by New York Times best-selling author Bret Lott, the book offers a deeply moving and surprisingly redemptive story of one woman's journey of loss and discovery through the wilderness of her Mother's passage into dementia.
Jeanne Murray Walker answered some questions about her book, her mother and the disease that ultimately brought them closer together.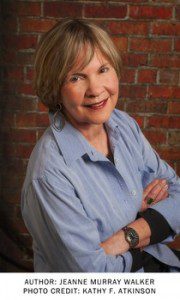 Q: You offer many stories about your mother throughout the book, ranging from hilarious to heartbreaking. Do you have a favorite story about or from your mother?
A: When I was a child, my mother told me endless stories. How she washed the milk separator every morning before she went to school. How she stood at the window as her parents' soybean crop was wiped out by hail. How she was sent off at thirteen to board at a strange family's house so she could attend the new high school in Slayton—burning with shame because the night before she left, her father cut off her hair above her ears. How she ate nothing but chocolate bars for six weeks and developed boils. At fifteen how she drove her brothers and sisters to school in a Model A. At sixteen she became the lone teacher for 32 kids in a one-room school house.
By the age of twenty she was staffing a hospital ER alone during the night shift. One night a couple of cops came in with a man's arm wrapped in a bloody army blanket. They thrust it at her and announced, The body's coming later. In surgery she was the one who managed the eminent physicians. Her job was to hand them instruments from the autoclave: the scalpel, the forceps, the scapular retractor. If they got irritable they would swear and fling the instrument across the room and demand another as she tried to calm them down. She was the recipient of half a dozen marriage proposals, most of them from doctors. She spent half a day stuck in an Otis elevator with a dead body.
As the school nurse at Irving Junior High, to hear her tell it, she regularly threw herself onto the bodies of students and teachers to stop geysers of blood from shooting out of wounds. It was her coaxing that persuaded an unhappy junior high math teacher to come down from the far edge of the school roof, where the woman was munching a piece of cheddar and contemplating how far it would be to the ground.
In GEOGRAPHY I write about how—during the last decade of my mother's life—every time a doctor gave her a test for Alzheimer's, she turned smart as a fox and managed to slip out from under the diagnosis. This created a problem for my sister and me, yes. But it was fun to watch her outwitting her doctors.
Q: What are some things you feel your mother taught you, even as her health was in serious decline?
A: Mother showed me what aging looked like up close. Though she sometimes informed me bluntly of her back pain or her irritation with administrators in her assisted living, I now realize that she aged gracefully. She was usually patient and often funny. Moreover, she knew how to pray. That kind of spiritual energy—she could tap into it. She was a National Flower Show judge who loved perennials. She believed in what comes back. Our lives—everything else that's significant—are eternal, she believed. And that kept her going. I don't think the alternative ever occurred to her.
Q: Did you find your role as a distant but involved caretaker to be difficult to manage? How so, or how not so?
A: Luckily, while I was flying back and forth, I didn't realize how difficult it was. But it was. There was the profound challenge of being the oldest child, feeling the responsibilities of that role, but not living close enough to my mother to check on her every day. My husband and I phoned her every evening. But intentionally or unintentionally, she frequently told different stories to my sister and me. Some of our disputes arose out of those disconnects.
Then there was the physical wear and tear of travel: Booking tickets and a rental car, planning my time with mother in Dallas so it would be useful to her, arranging classes at home so the graduate students who stepped in to teach for me would really add something to my students' experience. It was difficult.
The truth is, taking care of my mother from a distance was also a drain on our budget. I paid graduate students to teach, and, of course, there were travel expenses and lost time. Well, not lost. But lost to the books and other projects I was trying to finish.
Q: What advice would you give to someone going through a similar situation?
A: I would say don't give up because the news about Alzheimer's in America sounds so grim. I would say, It's worth it. Stick with your loved one. In the end, you'll reap benefits you can't even imagine.
The Alzheimer's Association claims that between 2000 and 2008, deaths from Alzheimer's increased by 66% while every other major cause of death decreased. It's risen to the 6th leading cause of death in the United States. By 2050 the incidence of Alzheimer's is expected to quadruple worldwide. As a recent op-ed in the New York Times argued, fear of the disease causes children to abandon their parents, and parents to consider suicide, rather than live through dementia.
What a parent has to gain from being cared for by her children may be obvious; it's less clear what the child has to gain. But listen: taking care of my mother during her Alzheimer's years left me with gifts that surely would not have come to me any other way.
Q: Did this experience impact your relationship with your own children? How so?
A: Both of my kids flew to Dallas from time to time to visit Mother. One helped her move and the other gave a concert at her Assisted Living facility. My sister's kids were there, too, getting in on the act. Taking care of her together became astonishingly satisfying. It created family ties that I suspect nothing can break.
Taking care of the old people is a tradition in our family. I flew to Minnesota with my mother for years (hauling my kids with me) to help her care for her mother. Then we cared for her older brother together. Similarly, my kids flew with me to Dallas to take care of my mother. GEOGRAPHY is partly about passing down that legacy. Among other things, taking care of ancient family members is a way for kids to learn what family they belong to and what aging looks like—which has been intentionally hidden in American society.
Q: How did your religious upbringing influence your early adulthood? How does it influence your life now?
A: Influence may be too tame a word. Add to the usual torment of teenage years the anguish of losing Fundamentalist faith. (Not that I wanted to get rid of it. I just looked up one day and discovered I couldn't believe the Bible in the literal way I had been taught.) For me this loss was catastrophic. My father died when I was 13 and my brother when I was 16. I was deeply aware that any of us in the family might be next—at any time. No wonder I lived such a vivid, high stakes, crisis-oriented childhood and adolescence.
Eventually I found a way of believing that doesn't require such frenzy, that allows a little room for rest and humor. GEOGRAPHY is partly the story of that journey.
Q: Do you think your relationship with your sister would be as close as it is today if this experience with your mother hadn't happened?
A: Absolutely not. As my mother drifted into dementia and downsized, Julie and her wonderful husband, Rich, offered me their guest bedroom. Many evenings, after I said goodnight to Mother, the three of us sat up, sipping wine and talking. Julie and I exchanged a thousand emails during Mother's decade-long decline. The two of us had some sharp differences of opinion, but we managed to work them out. And the children—hers and mine—knit permanent friendships over that decade of taking care of Mother.
Q: This memoir is your story of how these events unfolded, but you say in the book that this isn't the way your sister remembers things, nor your mother's friends, maybe, nor her church group. In fact, they may all take serious issue with this book. In that case, where is the truth? Can we ever be confident we know what it is?
A: You've put your finger on something terribly important. I am discovering that it's much more dangerous to write memoir than to write poetry. The other people who are still living, who are represented in the narrative of a memoir, may have very different ways of understanding what happened. They may feel the story you tell is wrong—or at least, off kilter.
In GEOGRAPHY I have told what I heard and felt and understood. We see things from our own perspective. Surely that's human and inevitable and, of course, imperfect. We're limited to our time in history, to the place where we were standing while the event unrolled. So what I've written in GEOGRAPHY is not "the truth" in some large, general way. It's what I know. What I saw happen from the point of view of the older child who lived twelve thousand miles away from my mother. It's the only story I have to tell.
Q: When and how did you begin recording your memories after they started coming back?
A: When I began flying to Dallas frequently to be with my mother, I started to write and publish essays about growing up in our Fundamentalist house in Lincoln, Nebraska. The essays seemed odd. I had written for the theatre and published a lot of poetry, but never prose, never about my own past. It didn't dawn on me until almost a decade later that I was remembering that early stuff so intensely because I was spending so much time with Mother.
Q: How has writing this book affected writing your poetry? Have you found yourself writing more about subjects related to your mother, memory or aging?
A: I don't think so. Of course my mother's death has registered in my poetry. When I stop to reflect on that, how could it be otherwise? But about writing: no, the memoir hasn't influenced my poetry. The arrows probably go in the other direction. Writing poetry taught me how to create a voice in prose, how to move a narrative forward in time, how to leap into metaphor when something needs to be explained, how to talk about the landscape and weather, how to bring a story to a close. Believe it or not, writing sonnets can teach a person a huge amount about how to write in any form.
Q: Are you preserving memories differently now than you used to?
A: This business of memory is endlessly fascinating and endlessly frustrating. You try to tame memory. You keep a theatre program. You press lavender from a bouquet someone has given you. When you look at that stuff decades later, the things often seem like objects from another country. Sometimes you can't even remember what the flower is, or who gave it to you. Instead something else from that period has stuck in your memory—standing by the grizzly cage at the zoo, or a fragment of conversation with a boyfriend: nothing you wanted to remember, but there it is.
Q: Do you think your mother would like this book?
A: I suspect my mother would be astonished to find her picture on the cover of this book. But she wouldn't read it. I don't think she read any of my books, but she was delighted to show them off on her coffee table, because she could tell it made me happy. She was thrilled at everything her children did.
Visit the Patheos Book Club for more on The Geography of Memory.