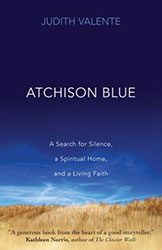 When religion journalist Judith Valente traveled from her home in Chicago to the sleepy town of Atchison, Kansas to lead a retreat for busy professionals at a 150-year Benedictine monastery, she never expected to be the one schooled in the power of silence. But sitting in the choir chapel the morning before her first presentation, she was overcome by tears and the clear realization that it was she who needed the retreat; she who needed to learn how to slow down, speak less, and listen more.
Valente's initial awakening to the monastic life — and her subsequent journeys back to the monastery over the course of the next three years — is the subject of her new meditative spiritual memoir, Atchison Blue: A Search for Silence, a Spiritual Home, and a Living Faith. Praised by such spiritual luminaries as Richard Rohr, Macrina Wiederkehr and Paula Huston, Atchison Blue – named after the color of the stained glass windows in the Monastery – transports the reader into the counter-cultural community of the sisters of Mount St. Scholastica, bringing their compassionate humanity, wisdom and humor into full-color view. The book feels like one long exhale, as the wise words of the sisters and their daily rhythms — along with Valente's thoughtful and generous reflections — draw you deeper and deeper into this authentic community of prayer, hospitality, joy and service.
Valente joined us for a Skype video interview this week to talk about what drew her to Atchison, what kept her coming back, and how the experience changed her life for good.
For more on Atchison Blue – including a book excerpt and a video of Valente at the monastery – visit the Patheos Book Club here!