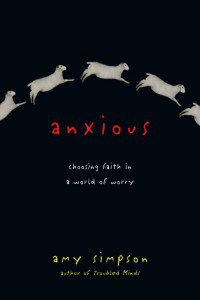 I served as a hospital chaplain many moons ago visiting all the patients with no church affiliation. One guy and I became pretty good friends since he'd been in for so long recovering from a hip replacement. On one particular visit, he told me that his ankle was what really was hurting him that day. He showed me how discolored, swollen and angry it looked. A doctor came in on rounds and said, "Let's see how you're doing." He grabbed the sore ankle, covered by a sheet, and yanked to straighten the leg. My catching the fist in midair saved the doctor from an unscheduled visit to the moons of Neptune.
Sometimes the worst pain lies hidden. If I had a broken bone of spirit, I'd want Amy Simpson to be the one to touch it if that was necessary to start the healing. She has the eye for sensitive issues and the touch for dealing with them. Her new book Anxious: Choosing Faith in a World of Worry makes a choice follow up to her Troubled Minds: Mental Illness and the Church's Mission, both from InterVarsity Press. She won me with the first sentence of the introduction: "Let me start by telling you what this book is not." Any writer who can say clearly what they're not writing about is ahead of most of the pack. It's not five easy steps to beat anxiety. "Snap out of it" is a bad answer to a lot of questions. It's not a substitute for counseling or therapy for people needing treatment. And it's not written to shame people suffering from anxiety disorders. (A nice appendix touches on the subject at the end.) This would be a great resource for a group dealing with that and I intend to pass this along to one I know about, but this isn't that.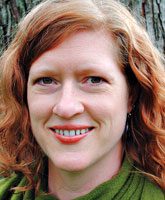 She does an insightful breakdown between worry, anxiety and fear in Chapter 1. Fear can be entirely justifiable. In fact, not feeling fear in some situations would be abnormal. But as Amy moves into exploring anxiety and worry, she does some of her best work. Chapter 3 lays out "Worry's Many Destructive Powers". It reminded me of the first time I ever read a psychology textbook. Reading descriptions of all kinds of psychoses and aberrant behavior, I thought, "Oh, man…that's me…no, that's me…no, wait…" Instead, I read through thinking, "I knew that but could never put it into words. Or "I never thought of that." Chapter 3 combines good writing with good spiritual care; she lays out the problem without alienating or scaring away the patient.
In Chapter 5, Amy probes an often unaddressed root cause of anxiety – a deep-seated sense of entitlement to never suffer. It's often a First World (read Western) problem stemming from high levels of comfort, convenience, materialism, etc. "No Easy Life" explores how deeply the idea that God protecting us from any and all suffering has penetrated our thinking. She brings a number of biblical passages to bear on this that I thought I knew but she infuses them with the flesh and blood of the moment. The pyramid of human skulls brought more intense light to one situation for me. Does God really promise a firewall to protect us from any and all suffering both for us and those we care about? If He does, He really messed up with Jesus, with Paul (beaten more times than he could remember) and with countless Christians through the centuries.
Chapters 6-9 could be excerpted to produce a very good booklet to give away where appropriate. Since InterVarsity Press does this kind of thing so well, maybe it will happen. These chapters close with important questions. How can I change? What exactly is the comfort of God? How strong is it? How does His counsel and care prepare me to face the future, to deal with all the triggers of worry embedded in life and its concerns? She uses much Scripture, not only rightly interpreted but applied like a cool cloth on a fevered brow, to breathe what might be the most precious quality into the life of a reader struggling with ongoing anxiety – hope.
For friends and family of the anxious, pastors, Sunday School or small group teachers, anyone caring for the spiritual struggle and pain of people they love, this book is a must.
Read an excerpt from Anxious at the Patheos Book Club here.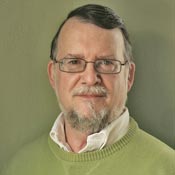 David Swartz pastors Bethel Baptist Church in Roseville, Michigan. He thinks that jazz is sacred music, that books are better company than most people, and that university towns rock. He blogs at geezeronthequad.com.