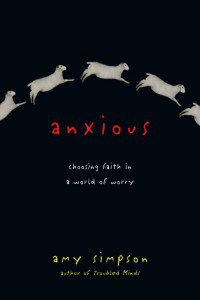 Reflections on Anxious: Choosing Faith in a World of Worry, by Amy Simpson
Read more on this book in the Patheos Book Club here.
I am grateful to Amy Simpson for naming a pervasive thread in the consciousness of so many in the 21st Century—the worry that attends so much of our musing, deciding and imagining. She writes from a place of thorough Biblical study and deep life experience, giving her voice credibility and authenticity.
She defines worry as a practice of "indulging fear, clinging to it, feeding and serving it." (p. 10). As she illustrates and enumerates the ways in which worry can sap the life of Christians, she is particularly helpful when she talks about the ways in which worry can infect the systems of our faith communities, thereby affecting our decision making, our vision and our caring for the world. She calls individuals and systems to repentance of the sin of worry and an expanded reliance on the work of the Holy Spirit to heal and direct. She develops broadly a scriptural basis for this stance of renewal. She then suggests that cognitive behavioral therapy can be useful for individuals in overcoming persistent anxiety.
As I read this from my lens of that of a spiritual director, I found that even though my heart resonated with Simpson's longing to be free from the anxiety that binds us, her approach to overcoming it was not one which would bring freedom to many of those with whom I sit. I don't know that any of them would choose to be anxious, yet many of them are, for reasons of personality, trauma and bad theology. Simpson seems to lay the responsibility for acknowledging sin, repenting, then finding a way out on the person who is already anxious, another layer of anxiety with which to cope, even thought she claims that this healing is the work of the Spirit. She does her best to separate the condition of those who suffer from anxiety disorder from those she feels indulge in worry, but I feel that she does not succeed in making a way for those whose personality and upbringing have reinforced anxiety as a way of being in this world.
This book will find an audience with those who recognize that for them worry in an intentional indulgence that can be overcome with prayer, maybe even therapy. But for the rest, a word of Grace and Hope will need to come from another source.