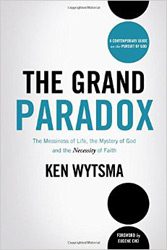 Say the word "theology" and eyes can glaze over. A number of reasons for this come to mind. Sometimes our thinking on theology is sincerely misguided. Some believe that being Christian bypasses the mind, that thinking too much just provokes arguments and stifles simple faith. Some of us are lazy, shirking the mental work of faith to our pastors or professors. Others are intimidated intellectually and fear that theology is antithetical to living a biblical faith. It can be. It depends on who's writing the theology. It can bristle with Greek tenses and Hebrew verb stems with a few Latin footnotes thrown in. It can drop names we don't know and words we don't understand like "heilsgeschichte" (a German microbrew?) or Sitz im Leben (designer lederhosen?)
Enter Pastor Ken Wytsma with The Grand Paradox; The Messiness of Life, the Mystery of God and the Necessity of Faith. He writes theology for real people. The book's subtitle reads: "A Contemporary Guide on the Pursuit of God." If we're looking for a quick fix, instant solution to ensure lasting prosperity and complete happiness for the foreseeable future, this book is not for us. If we'd like a satisfying read, a long and thoughtful chew on things biblical and spiritual that will galvanize us for a lifetime of following Jesus, The Grand Paradox will be worth our while. In both style and content, Ken achieves this goal this in a number of ways.
Whenever we write, especially on a topic with a broad focus like living Christianly for the rest of our life, it's easy to put down everything we know, to disgorge every creative thought out on the page, to make every sentence worthy of a Nobel Prize. Ken wrote an earlier book, Pursuing Justice; The Call to Live and Die for Bigger Things. Maybe he did all these things there. But I doubt it. He writes with an urgent, yet restrained style that says this is too important to breeze through or skim. He writes in a style that slows the reader down to drink in what he's written and make them glad they did.
He also does some things I mentioned above. He drops names not everyone will know. He loves C.S. Lewis (what's not to love?), Augustine, Nouwen, Kierkegaard, Brueggemann, Heschel, Underhill and others. As Ken introduces these names into the text, it's not to impress us. He wants us to meet his friends so they can be ours too, potentially in life changing ways. He also uses Scripture. How can any book even pretense to be a Christian book that excludes it? The reader will repeatedly find himself inspired by Scripture passages they may never have read seriously before.
Ken even uses print layout to make biblical theology more comprehendible. On pages 12-13, Ken describes the biblical thought form known as "paradox". Instead of giving his own homemade definition, he gives an inset of eight bullet pointed examples straight from the Scripture. Ken also observes the good writing rule that says if anyone else has said it better, let them. Quote freaks will find more than one to tuck away and be remembered.
Ken is also an expert of sorts on social justice issues. A graduate of Kilns College, a school centering on justice and philosophy, Ken began a conference that has awakened thousands to the issues surrounding biblical justice. He is adamant that what the Bible describes as salvation includes far more than personal concerns. It concerns a world made right (chapter 5); as sin is also systemic and cultural, salvation must be as well.
Chapter 6 takes a long look at happiness and our obsession with and sense of entitlement to it. The desire for happiness is actually part of the hardwiring of the Image of God within us but we attach and frustrate it by squandering the desire for happiness in pursuit of things less than God. In Chapter 7, Ken analyzes doubt, pointing out that stifling or ignoring it does far more to destroy faith than defend it. Grappling with real doubt alongside those who will allow us to struggle without drumming us out of the church produces paradoxically much stronger faith, much more durable Christians and churches.
Ken also gets into our callings, mission and the will of God (Chapter 8). I applaud his appeal to personal daily faithfulness to the things God calls us to in day-to-day life. The Body of Christ has a big backside that often can envision no more than personal comfort, prosperity, protection and love of convenience – the spiritual equivalent of pounding down Krispy Kremes. Much talk about wanting to know the will of God arises from passive dispositions. My favorite (and I didn't think it would be) was Chapter 10, "Complexity and the Limits of Human Understanding." He describes our information-overload and the tyranny that technology exercises over our lives if we'll let it. Since I firmly believe our obsession with social media cripples us socially and accelerates the dumbing down of our culture, I found his simple prompts refreshingly to the point. Ken brings relief with his suggestions for how not just to silence "the voices," but to hear The Voice.
Ken also writes tellingly about fatigue as an expected, even valuable, part of Christian living. He clarifies well what traditionally we've know as the Dark Night of the Soul but have corrupted through distortion into the image of our own self-centeredness. As I read The Grand Paradox, I found myself thinking, "This guy is in my corner." And he is. But what I imagine Ken Wytsma really wants us to see is that Jesus Christ is the One in our corner whether we sense it or not … for the long haul, for the rest of our lives.
Read an excerpt and more from The Grand Paradox at the Patheos Book Club here.