By Terry Hershey, author
Sanctuary: Creating a Space for Grace in Your Life
Everyone has a sanctuary, if only in the mind. Even if we can't say what it is, we know of its power. It is a place where we feel grounded, unhurried, and renewed. We go there whenever we can, which never seems often enough. Or that's what we tell ourselves.
A sanctuary is a place that restores us, replenishes us, nourishes us. In this renewal, we are reminded, once again, of what really is important.
We are wired to need grounding and renewal. Yes, I believe it's in our emotional DNA. So you'd think creating sanctuary would be at the top of our priorities. But there's the sticky wicket. We end up making choices—with our time and with our days—that are detrimental to our emotional and spiritual well-being.
If I had my druthers, I'd put my pen down (yes, I still write with a fountain pen) and invite you to take a walk with me. We're not going far. Off to the side of my garden and tucked under a maple tree is a swing. It's for cogitating and sitting for a spell.
I can tell the weeks when I do not get my recommended dose of sanctuary—or in my case, garden time. And I can tell when I do take my sanctuary time because it restores me; it's a dose of grace mainlined straight to the heart.
Walk my garden with me. And I'll show you how to find sanctuary in your own home and garden. Years ago, in the middle of my life, I lived "peddle to the metal," stressed and overwhelmed. The garden mended my spirit and my soul. I didn't know it at the time, but the garden became my sanctuary. That's how it begins: can you think of places, spaces, rituals (in your house and / or garden) that replenish and nourish and restore?
Each sanctuary has these ingredients: a portal (an entrance or time to shift gears and refocus), a container (a safe place for expression, reflection, creativity and prayer), a slowing down and engagement of all the senses (when I'm grounded I pay attention) and is purposeful and routine. In our sanctuary we find self-nurture and healing and refuge.
Can you name your portal?
Now I'm intentional about claiming that space. And I spend time helping others discover and create their own sanctuary. When I describe the elements above, eyes light up. "Yes," they tell me, "I have a sanctuary." It can be a chair or a bench or a particular garden path or a routine or a specific hour of the day. Like now in my garden when I want to stay on the patio until well past dusk, and soak up as much of this air–an intoxicant–that I can. An Old Garden English rose, just off the patio is in bloom, canes heavy with blooms, exquisite and unabashed. I drink it in, this beauty, and let my prayers of gratitude float up into the steel blue sky.
Read more about Terry Hershey's new book, Sanctuary: Creating a Space for Grace in your Life, at the Patheos Book Club here.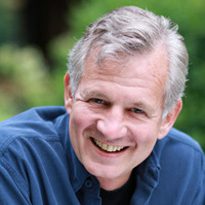 Terry Hershey is an inspirational speaker, humorist, author, organizational consultant and designer of sanctuary gardens who has been featured on The Hallmark Channel, CNN, PBS, and NPR. Terry holds a mirror up to our fast-forward, disconnected lives, and offers us the power of pause—the wisdom of slowing down and the permission to take an intentional Sabbath moment to regain emotional and spiritual balance… to find the sacred in every single day.