"The truth is people are already suffering from addiction in our pews. The issue is whether we will move out of our denial and respond with grace, healing, and unconditional love." — Jonathan Benz, author, ordained minister, and certified addictions professional
This month in the Patheos Book Club, we're featuring The Recovery-Minded Church, a timely and practical book for the Church on loving and ministering to people with addiction. Author Jonathan Benz (MS, Palm Beach Atlantic University) is a clinician, public speaker, ordained minister and certified addictions professional who serves as the program director of the Three Strands Christian addiction treatment program at The Recovery Place in Fort Lauderdale, Florida. As a leadership consultant to various agencies in the United States and United Kingdom he specializes in teaching team leadership, task efficiency, crisis management and conflict resolution to people in the midst of life transitions.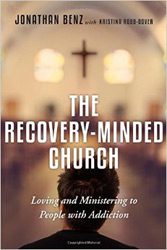 Patheos caught up with Jonathan this week to find out more about the problem of addiction in the church, and how to become a more "recovery-friendly" church.
In Chapter 1, you say: "The question is not whether you will encounter addicted people (in your congregation), but how you will respond when you encounter them."  What is the reality, statistically-speaking, of the number of people struggling with addictions in churches?
Most experts agree that roughly 1 in 3 Americans suffer from some form of addiction—from substance use disorders to "process" addictions such as sex, food, or shopping. Many believe this statistic to be much higher as the shame and stigma associated with addiction keep people from being as honest when self-disclosing. I believe this to be especially true in the Church where still many Christians believe addiction to be a sin forgiven rather than a disease state to treat, heal, and recover from.
You maintain that addiction recovery is more than just helping get someone into an AA program.  What is a church's opportunity in regards to loving and walking alongside the addict?
I believe it to be an opportunity for us to love the "least of these" and by doing so minister to Jesus. The truth is people are already suffering from addiction in our pews. The issue is whether we will move out of our denial and respond with grace, healing, and unconditional love.
Addictions are of many forms today, from substance abuse, to pornography, to shopping. When you talk about addiction in a community, how broad does that definition extend?
Addiction looks different depending on the object the person feels controlled by. So while we know that there is a genetic marker for alcoholism, science hasn't quite pinpointed (yet) one, for say, compulsive exercise. It's important to remember whatever the obsession or compulsion—whether shopping, sex, pain pills, or chardonnay—these things are but a symptom of a deeper longing. So we don't address symptoms as much as we address the hole in the heart that causes one to self-medicate and numb out with these other things.
I imagine the way we "love" an addict versus a recovering addict is different. I'm thinking specifically of the importance of boundaries with addicts.
I believe unconditional love is necessary for both a person in active addiction or in recovery. But yes, boundaries are important. Addiction generally responds best to consequences. So when we have healthy boundaries with the addicts in our midst, we actually love them into recovery and into a space where they can heal. Our denial or enabling actually keeps the disease in the shadows. I think bringing the disease state into the "light of Christ" is a helpful metaphor when helping another heal. What is done in the dark actually destroys. Sharing with a trusted confidant fosters deeper healing and recovery.
What are some of the first steps in creating a recovery-friendly church?
Start having the conversation. Create awareness. Remove the shame and bring things into the light— of course where it would do no harm to those involved.
What are some of the biggest hurdles in becoming — and sustaining — a recovery-minded church?
Addiction is a chronic and pernicious state. It can also be exacerbating or as AA says, "cunning, baffling, and powerful." So understanding that this is a long-term pursuit and not a quick fix is important.
In the situation where a pastor or church leader struggles with their own addictions, what would be your advice for that community? What is the role of the congregation in that instance?
It depends on the level of addiction and the current impact on the leader's life and/or congregation. It might be necessary for the pastor to go for private therapy or perhaps even go away to treatment. I've been involved in such cases. We work with the pastor's family and his or her board or vestry to protect the integrity of the leader, family, and congregation. This information should be shared only on a "need-to-know" basis.
What is your own experience with ministering to those with addictions? How were you called to this work? What keeps you engaged with the work?
I was raised in a minister's home that was very recovery-friendly. We had parishioners in our congregation who exposed us to AA and other recovery fellowships in the early 80s. My father preached it wasn't a sin to be an addict. Sinful consequences, perhaps yes. But for our congregation addiction was a disease to be treated through clinical professionals along with spiritual community.
For me, addicts and alcoholics were not bad people—they were my friends at church, extended family members, even mentors. I was blessed that we were given good information about addiction early on. That shaped me and to this day still inspires me for this most wonderful work of healing and recovery. By the way, that's all in Chapter 1. 🙂
Read an excerpt from The Recovery-Minded Church at the Patheos Book Club here.