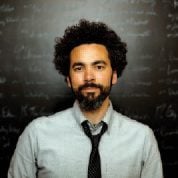 His first book was called The Skeletons In God's Closet: The Mercy of Hell, The Surprise of Judgment, the Hope of Holy War. The Rev. Joshua Ryan Butler is one who clearly likes to wrestle with the tough questions of the faith and come out the other side with a new paradigm for seeing and understanding.
In his newest book The Pursuing God: A Reckless, Irrational, Obsessed Love That's Dying to Bring Us Home, Butler flips the notion of us pursuing God to argue that really, God's the one pursuing us … and the big question is, do we want to be found?
Preston Sprinkle calls The Pursuing God "the book to read for 2016″ and Scot McKnight says he "commends this book front, left, and center." I had the opportunity to chat with Josh about his book and a God who pursues us like "the Hound of Heaven," as well as some of the truly inspiring ministries he and his community at Imago Dei Church in Portland, OR, are doing locally and internationally.