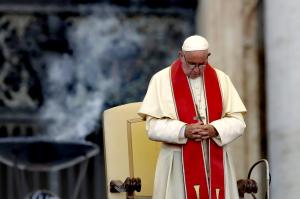 Pope Francis (Jorge Mario Bergoglio, SJ) was elected by 77 votes on 13 March 2013 as the 266th Pope of the Catholic Church. He became the first Jesuit to be elected as a Pope, the first Pope from South America (Argentina), and the first non-European Pope since the papacy of Pope Gregory III who was from Syria. When he was elected as Pope, Francis had been a priest for 44 years – ordained on 13 December 1969 (ordained a priest on the 13th day of the month and elected as Pope again on the 13th day of the month).
Before becoming the head of the Catholic Church, Pope Francis was the
Provincial Superior of the Society of Jesus in Argentina (1973–1979)
Auxiliary Bishop of Buenos Aires (1992–1997)
Titular Bishop of Auca (1992–1997)
Archbishop of Buenos Aires (1998–2013)
Ordinary for the Faithful of the Eastern Rites in Argentina (1998–2013)
Cardinal Priest of San Roberto Bellarmino (2001–2013)
President of the Argentine Episcopal Conference (2005–2011)
The name 'Francis'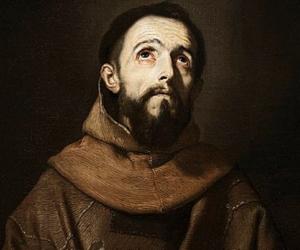 Pope Francis recalled how after his election was celebrated with an echoing round of applause his friend, the late Brazilian Cardinal Claudio Hummes hugged him, kissed him, and said "don't forget about the poor". That is when he resolved, through the inspiration of the Holy Spirit to take up the name 'Francis', in honor of St. Francis of Assisi – a man devoted to the poor, missionary outreach, and caring for God's creation. The Pontiff said that, like St. Francis of Assisi, he himself wanted to see a poor church and a church for the poor.
The Pope's name also reminds people of the Spanish Jesuits, St. Francis Xavier and St. Francis Borgia, who lived in the 16th century and played a crucial role in the establishment of Catholic missions in the Asia and America. In the eyes of many people, the Pontiff has lived up to his name. He chastised clergymen who were authoritative, he made financial reforms at the Vatican and he has associated himself with the poor, even washing the feet of twelve inmates at a prison near Rome during Lent.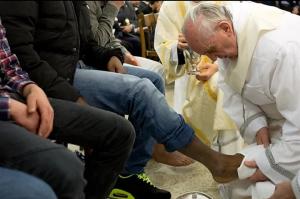 In the 10 years, that Pope Francis has been at the helm of the Catholic Church, he has definitely not forgotten about the poor; hence, he established World Day of the Poor in 2017. This was part of his message at the first World Day of the Poor,
"We may think of the poor simply as the beneficiaries of our occasional volunteer work, or of impromptu acts of generosity that appease our conscience.  However good and useful such acts may be for making us sensitive to people's needs and the injustices that are often their cause, they ought to lead to a true encounter with the poor and a sharing that becomes a way of life.  Our prayer and our journey of discipleship and conversion find the confirmation of their evangelic authenticity in precisely such charity and sharing.  This way of life gives rise to joy and peace of soul, because we touch with our own hands the flesh of Christ.  If we truly wish to encounter Christ, we have to touch his body in the suffering bodies of the poor, as a response to the sacramental communion bestowed in the Eucharist.  The Body of Christ, broken in the sacred liturgy, can be seen, through charity and sharing, in the faces and persons of the most vulnerable of our brothers and sisters.  Saint John Chrysostom's admonition remains ever timely: "If you want to honour the body of Christ, do not scorn it when it is naked; do not honour the Eucharistic Christ with silk vestments, and then, leaving the church, neglect the other Christ suffering from cold and nakedness" (Hom. in Matthaeum, 50.3: PG 58).

We are called, then, to draw near to the poor, to encounter them, to meet their gaze, to embrace them and to let them feel the warmth of love that breaks through their solitude.  Their outstretched hand is also an invitation to step out of our certainties and comforts, and to acknowledge the value of poverty in itself."

Pope Francis greets a patient at a pediatric center in Bangui, Central African Republic

The Pontiff continued to say,

"Let us, then, take as our example Saint Francis and his witness of authentic poverty.  Precisely because he kept his gaze fixed on Christ, Francis was able to see and serve him in the poor.  If we want to help change history and promote real development, we need to hear the cry of the poor and commit ourselves to ending their marginalization.  At the same time, I ask the poor in our cities and our communities not to lose the sense of evangelical poverty that is part of their daily life."